It feels good to win three more! This wind-blown series was a wild and wooly one. Not only did Illinois have to stave off a nine-run comeback by Rutgers (18-14, 4-5 Big Ten) on Friday but there were two contested homeruns (one was overturned). While 25 runs were scored by both teams on Friday and 14 on Sunday, only three combined runs were scored on Saturday. Two of the three games were decided by one run.
But the overall result? Illinois defeats Rutgers three games to none! With the sweep, Illinois improves to 23-8 and 9-3 in the Big Ten.
Joining Bren Spillane in the national rankings is Joey Gerber who collected two saves on the weekend. He is now tied for fourth nationally with 11 saves. Also, Ryan Thompson earned a win on Friday night. His seven victories is tied for fifth nationally.
Most importantly, Illinois rejoins Baseball America's rankings again. They eke in at #25.
I can honestly say that Friday's game was the craziest baseball I have ever seen in person even compared to the Rutgers matchup in 2015 in which Illinois won 28-13.
I shouldn't have been surprised given the strong winds heading out. On my walk to Illinois Field, I collected six baseballs hit over the wall during batting practice. In the bottom of the first inning, Zac Taylor took advantage of the breeze and hit the second pitch for a homer.
There were nine more hits that inning.
Among them was a bases loaded triple by Bren Spillane and a two-run shot by Jeff Korte. When the inning was over, the Illini were up 9-0. Game over? Not by a longshot.
Rutgers had a big 4th inning but they scored ten runs upsetting the balance of the game and gaining the lead. They added one more in the fifth to take a 11-9 lead.
Jeff Korte stepped up in the sixth to put the Illini ahead 12-11 with an rbi single. Again, Rutgers came back to tie it. It was tied 12-12.
It was the bottom of the 8th inning, when Korte drove in Jack Yalowitz to put the Illini ahead for good 13-12. Joey Gerber came in for the save, his tenth of the year. Ryan Thompson who pitched a scoreless eighth, earned his seventh win. He is still among the national leaders.
If that wasn't enough drama, there was a Rutgers homer in the fourth innning which was contested and overturned. The ball bounced back off the wall and the game was delayed while both coaches had their say and the umpires conferred. The homerun ruling was reversed and as it turned out, was very crucial to the game result.
Saturday's game was completely different from Friday's. No drama. No theatrics. And very little offense.
Compared to the 25 runs on Friday, both teams scored only three runs. Fortunately for us, starter Quinn Snarskis was on his game and pitched a great game. He allowed just four hits and one unearned run in 6 2/3 innings. Zack Jones was able to pitch the Illini out of jam while Thompson pitched a perfect eighth inning. Joey Gerber again came on for the save which makes it eleven for the season.
Michael Michalak was 3 for 4 with two doubles. Doran Turchin drove in the first Illini run in the first inning and scored on a Jack Yalowitz base hit in the third. That's all the Illinois pitching would need that day.
IBR Saturday game photo gallery
With the wind blowing out on Sunday afternoon, it almost seemed like we were going to have a re-hash of Friday night. Sure enough, Illinois put together a seven-run third inning thanks in part to a grandslam by Michael Massey and a two-run shot by Jack Yalowitz.
Fortunately, there was not a comeback in store for Rutgers. They did manage to make it a little interesting scoring three runs making it 7-4 but the Illini weren't done. Jeff Korte and Ben Troike both contributed rbi singles to add to the lead.
Ty Weber helped the bullpen by pitching Illinois' first complete game of the year. Weber struck out six batters and only gave up four hits while earning his fourth win of the season.
Random Ramblings
If you check the Big Ten standings, you'll see that Illinois is still in third place (behind Michigan 8-0 and Minnesota 7-1). I think it is safe to say that Illinois has removed one contender for now. Rutgers was 4-2 coming into this weekend. Despite being in third place, the Illini do have the most wins at 9-3.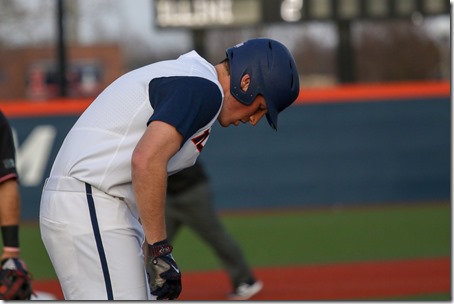 Some have asked about the status of Bren Spillane who has been named Midseason Player of the Year. In the role of designated hitter, Spillane came to the plate twice this past weekend. He got two hits, a double and a triple and efficiently drove in three runs.
But Spillane is nursing an ankle injury from the previous weekend series again Maryland. When he pulled into third after his triple, it didn't look to promising so Coach Hartleb did the smart thing and pulled him for the rest of the series. Fortunately, the rest of the Illini were ready with the bats.
Here's to your health, Bren!
So who's playing first base?
It's Michael Michalak who was previously in the role of DH. The junior transfer from Des Moines CC has been hitting well with a .333 batting average. He poked two doubles on Saturday.
Mark Skonieczny is now getting a chance to help out with his bat. If you get a chance to watch Skony during warmups or as he comes to the plate, you might not find a more intense player. Even under these conditions, it's good to see Mark back and contributing.
Next up:
This Tuesday, Illinois will host Valparaiso at Illinois Field at 6pm. For the weekend, it will be a non-conference weekend. The Illini will face the Antelopes of Grand Canyon University.
Go Illini!
Related posts