This weekend the Illinois baseball team travel not south but north to Minneapolis, Minnesota to take on three formidable teams in the DQ Classic.
The Illini who are playing .500 ball with a 3-3 record will take on ranked UCLA (7-1), Arizona (5-3) and Washington (4-3) at the U.S. Bank Stadium. It wasn't too long ago when the U.S. Bank Stadium hosted the Super Bowl.
Probable rotation:
Friday: Quinn Snarskis (0-0, 5.40)
Saturday: Andy Fisher (0-0, 4.50)
Sunday: Ty Weber (1-0, 5.06)
According to the Fighting Illini weekend preview, Quinn Snarskis and Andy Fisher get invited back after their first foray into the starting rotation last weekend. Ty Weber will get his third start after earning his third win.
U.S. Bank Stadium

Minneapolis, Minnesota

Friday March 2

11:00 am CT

vs

W-L: 7-1

Saturday March 3

3:00 pm CT

vs

W-L: 5-3

Sunday March 4

2:00 pm CT

vs

W-L: 4-3
What will happen in Minneapolis?
Barring any major incident, the weather should not be an issue this weekend. Since the DQ Classic will take place in the indoor comfy confines of the U.S. Bank Stadium, the games will not be subject to any weather-related cancellations.
UCLA should be Illinois' biggest challenge. Ranked at #11 the past two weeks, the Bruins (7-1) have lived up to their hype. They have good offense (three games with 10+ runs) and superb pitching (six games giving up 2 or less runs).
Arizona is boasting a good season so far in 2018. They have a 5-3 record coming into this weekend. Looking at their stats, they are doing it with their pitching, sporting a 2.01 ERA. While they do have a couple of big stars in the early season, they have an overall batting average of .221 and only one homerun in their first two weekends.
Hurler Joe DeMers leads the Washington Huskies' pitching staff with 15 scoreless innings. Like Arizona, the Huskies (4-3) have gotten the job done with their pitching. They have an overall ERA of 2.43 and 64 strikeouts in 63 innings.
In sum, this will be a tough weekend for the Illini with an combined opponents' record of 16-7. The Illinois bats will need to come alive and do it early to make a difference.
Follow the games: @IlliniBaseball || WDWS AM-1400 || Fighting Illini Sports Network || Live Stats
Random Ramblings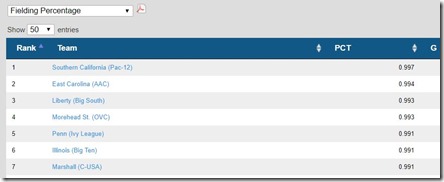 This is kind of neat. The Illinois baseball team is currently sixth in the nation in fielding percentage with a .991 mark. Count 'em. Just two errors so far this season. You can keep an eye on their progress at the NCAA Statistics web site.
One thing that will happen this weekend in Minneapolis that might go unnoticed is a little scouting. See, fellow Big Ten team Michigan State will be participating in the DQ Classic this weekend though they won't be playing the Illini. One week later, the two teams will face off in Greenville, South Carolina.
It's less than two weeks away from the home opener at Illinois Field! I'm excited to seeing some baseball here in Champaign. On March 13, Illinois will host University of Milwaukee.
Go Illini!!
Related posts