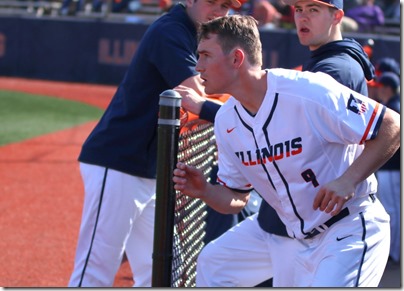 Once Saturday afternoon came, Illinois got their bearings in Conway, South Carolina and found out how to win.
At the Brittain Resorts Invitational, the Illinois Baseball regrouped after two straight losses and won the last two games to come away even-steven. They went 2-2 for the weekend and are 3-3 for the 2018 season.
The offensive stars this weekend include Bren Spillane who leads the team in hitting after two weekends with a .391 average. Spillane filling in at third base now, hit a grand slam on Saturday. Zac Taylor and Doran Turchin both contributed two homers over the weekend.
At 3-3, Illinois is in 7th place, right in the middle of the pack. Not surprisingly, Indiana is atop with a 6-1 record joined also by Purdue.
Jack Yalowitz homered for the first time this season and Bren Spillane put in a 3 for 4 game with a double and a triple but Coastal Carolina had other plans. They came back with four runs in the second inning and it was all Chants the rest of the way.
Ryan Thompson showed some good stuff in relief. He allowed just one hit in 2 2/3 innings while striking out four batters.
It was a pretty wild game in Game 1 on Saturday. Not too many we hit a grand slam and still manage to lose. Bren Spillane is the owner of that grand slam and that tied the game 6-6. However, WVU's Kevin Brophy's linescore is one you don't see very often. He hit three homers including a granny of his own. All told, he drove in eights runs.
In addition to Spillane's 2 for 4, HR, 4 rbi performance, Zac Taylor went 2 for 5 with a two-run homer in the sixth inning.
The Illini got back on track Saturday afternoon and got some revenge against Coastal Carolina. It was a little touch and go for a while there.
Illinois did score seven unanswered runs against the Chants early in the game. Jeff Korte's first homer as an Illini netted the good guys three runs in the second and in the fifth, Michael Massey doubled in Ben Troike and Doran Turchin contributed a two-run shot.
Then it became the Chants' game. They scored six unanswered runs of their own. Fortunately, the Illinois bullpen kept it to that and the score ended 7-6. Ty Weber won his first of the year and closer Joey Gerber earned his first save.
According to Coach Hartleb, "I wouldn't say we played particularly well", but the Illlini came out on the winning end on Sunday against VCU. You can thank duo Zac Taylor and Doran Turchin who both homered and drove in four the seven runs.
Pitching must have been a bit shaky. The Illini went through eight hurlers against VCU. Ryan Thompson did earn his first win this season by pitching 1 1/3 scoreless innings.
Next up: Believe it or not, Illinois will be traveling north next weekend. It helps that they will be playing indoors at the US Bank Stadium, home of the Minnesota Vikings. They will be taking on ranked UCLA, Arizona, and Washington. Friday's game against UCLA begins at 11am CT.
Illinois' first home game is coming up soon! They will be hosting Milwaukee on March 13th at Illinois Field.
Go Illini!!
Related posts