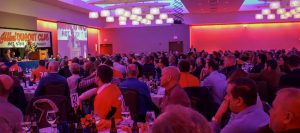 Saturday night, the large conference center at the iHotel in Champaign was filled to capacity with Illinois baseball fans there to meet the 2018 baseball players, hear former Yankee shortstop Bucky Dent and help raise some money. It's an annual tradition called the Hot Stove Banquet which is sponsored by the Illini baseball program and the Illini Dugout Club. I've been going for five years now and this year, I brought my friend Robin McElwee, who is a long time Illini baseball fan and a fellow photographer.
But what is the purpose of the Hot Stove Banquet? Well, it serves a lot of purposes.
Meeting the 2018 Players
Traditionally held in January, the Hot Stove Banquet symbolizes the kickoff of the Illinois Baseball season. The players are already warming up and getting ready for their first road trip which begins soon. They will be traveling to Lamar University and they're opening game takes place February 16th. The Hot Stove gives fans and supporters a chance to meet the players who are dressed in nice slacks but were easy to identify in orange jerseys. During the ceremony, each player introduces himself and says a little about who they are.
Inspiration
There is, of course, the keynote speaker Bucky Dent. Nothing inspires a college baseball player more than seeing a former pro who made it big. Bucky Dent, a former Yankee who hit a key homerun in a tie-breaker game in 1978, told many stories about his times with the Yankees and the White Sox. He even opened the floor up to the crowd for questions. Dent spoke about teammate Dick Allen ("best baserunner") and Yankee owner George Steinbrenner who he spoke very favorably.
Reunion
The Hot Stove Banquet is a chance for current and past players to catch up on old times. I saw many former players on Saturday night. I talked to 2017 graduate Trent Hammond who is now in New York City. His father came as well from California. Both said they came to the Hot Stove Banquet to "support the team".
I was glad to see them and everyone else who made the trip. Once an Illini, always an Illini.
Fundraising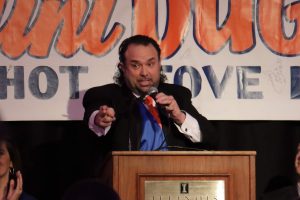 The Hot Stove Banquet helps to raise money money for the Illini baseball program. A silent auction with hundreds of donated items occurred online during the whole evening. Robin and I even donated several photos each to the silent auction.
The live auction is a real treat and we have auctioneer Mike Namoff to thank for that. Namoff and his crew work the crowd and the live auction is quite exciting to watch. These items are obviously much more exclusive and expensive. Namoff knows his craft and gets the bid going.
Something different happened this year that I hadn't seen at previous banquets. Before the speaker and even before dinner, Mike Namoff came up to the podium and said he was going to auction off the rights for your table to get your food first. Not only that, the winner could pick which table would go last. You know what? That auction garnered an immediate $1000. Overall, the estimated total raised Saturday was a whopping $70,000!
Overall, I had a fantastic time! This event was months in the making and I'm sure it took a lot of planning. Many thanks to Coach Dan Hartleb, emcee Jennifer Roscoe, Bucky Dent and all of the players, current and past. It was great to hear Bucky Dent. Seeing the players is great and this is the one time of the year I see some former players.
Feel free to browse the IBR photo gallery for more photos of the 2018 Hot Stove Banquet
It may be January but I'm ready for opening day!
Related posts