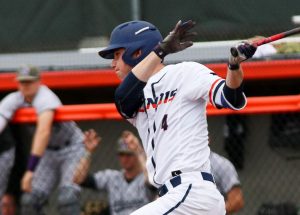 This week, Illinois baseball announced their roster for the 2018 spring season.
We'll be seeing a fair amount of returning starters from last year's young team. That includes infielders Michael Massey and Ben Troike and outfielders Bren Spillane, Doran Turchin and Jack Yalowitz. Mark Skonieczny is back behind the plate and last year's DH, Casey Dodge is listed as C/IF.
Last season's young pitching staff got one year's worth of experience and that can be so valuable as we head into 2018. Starting pitchers coming back include (a hopefully healthy) Doug Hayes, Cyrillo Watson, Ty Weber, Quinten Sefcik and Ryan Thompson. Illinois' bullpen showed some brilliance in 2017. With pitchers like Joey Gerber, Ryan Schmitt, and red-shirted Sean Leland coming back, the late innings won't be as harrowing. A comeback by Luke Shilling will be a big boost for the Illini.
FightingIllini.com highlighted the new guys in the roster reveal. There are a few to keep your eyes on.
The new guys
RHP/1B Ryan Kutt is one I've been waiting for since he was recruited. His credentials are pretty impressive and he had fellow Brother Rice Michael Massey to mentor him.
Jeremiah Lebron is an incoming outfielder from Boilingbrook, IL. He is a four time All-Conference Academic Team but also slugged .519 with 26 rbis.
With the departure of nifty-fielding Trent Hammond, local boy Kelly Sarver may come handy. He plays both catcher and third base. Kelly is from Champaign Centennial and took All-Big 12 and All-region honors.
OF/LHP Jimmy Burnette hails from St. Laurence and has started on varsity since his sophomore year. He hit .321 with 34 rbis his junior year. Last year, he was All-Catholic League second team.
The one rookie who is not a freshman is Jeff Korte. He is a transfer from Eastern Florida State College. Behind the plate, he hit .349 as a sophomore.
Michael Michalak hails from Des Moines Community College and tranfers as a junior. A letter winner in baseball and football, Michael is a school record for receiving yards. He was All-State in 2015 and two-time all-conference.
A two-year letter winner, RHP Quinn Snarskis will add to Illinois' pitching depth. He was an All-Chicago Catholic League honoree.
Here is the full 2018 Illinois Baseball roster
You will get to see the team play for the very first time on September 16 as the short Fall season commences with a game against University of Illinois-Springfield.
Related posts