Jack Yalowitz hits at a .347 pace
After a critical series win against #24 Maryland last weekend, Illinois travels to New Brunswick, New Jersey to face the Rutgers Scarlet Knights.  Rutgers (17-28, 5-10 Big 10) currently inhabits twelfth place in the Big Ten two spots below Illinois. 
Illinois is on a 15-8 streak and has won three of their last four conference series.  With a series sweep this weekend, Illinois could attain a overall .500 record. 
There is still a very real possibility that we could see a Big Ten Tournament berth for the Orange and Blue.  FightingIllini.com breaks down the scenarios and the numbers here in their Big Ten Baseball Standings Update
Make note of altered schedule this weekend.  Because of graduation Rutgers' graduation ceremonies on Sunday, two games will be played on Friday and one on Saturday.  Game one on Friday will begin at 11am. 
Stats of note
Illinois ranks fifth in the nation in DP/game with 1.13

Jack Yalowitz  .347 (6th in Big Ten), 11 HR (4th), .619 SLG (3rd)
Pat Mcinerney  14 HR (2nd in Big Ten), .584 SLG (4th)
Fighting Illini weekend preview
Pitcher probables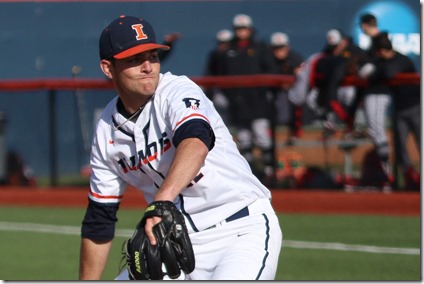 Friday  Ty Weber: 2-6, 5.24 ERA
Saturday  Cyrillo Watson: 2-4, 5.59 ERA
Sunday  Matthew James 1-1, 5.04 ERA  
The coaching staff is sticking with what works.  Granted, Ty Weber had a rough outing last Friday but I'm convinced the talent is there.  It easy to forget that it's a freshman we've been sending to the mound every weekend. 
As for Cyrillo Watson (above)and Matt James, they just need to build on their success.  Watson had the best game of his young career last Saturday.  Allowing just one run on five hits in seven innings, Watson earned that win against #24 Maryland. 
James pitched well too on Sunday giving up two runs in six innings.  The exciting walk-off win went to closer Joey Gerber who is now 2-0. 
A quick summary of the weekend…
Bainton Field

 

New Brunswick, New Jersey

Fri. May 12

11:00 am CT

Fri. May 12

2:30 pm CT

Sat. May 13

12:00 pm CT

vs

 

W-L: 17-28 B1G 5-10
 My take on Rutgers:  The illini won't admit it but they have to be thinking it.  Facing 17-28 Rutgers, this is the weekend to beef up the wins column. This is time to do it too as Rutgers is on a 1-5 stretch getting swept by Nebraska last weekend. 
No team is a sure thing though. Senior outfielder Mike Carter helps the offense with a .348 batting average and a team-leading 31 rbis.  Tom Marcinczyk leads the Scarlet Knights with seven homers. 
The Illini can hope to feast on Rutgers' pitching.  They have the highest ERA in the Big Ten with a 6.15 mark. 
Random Ramblings
It's hard to believe we're looking at the same bullpen that we started with this season. The young arms are developing at a rapid pace.  That is so apparent even in this last weekend's series.  For the three games. relievers gave up just one run and  five hits in ten innings.  Their performance was key in both Saturday's and Sunday's wins against a very tough Maryland team. 
The bullpen's improvement has shown a marked difference too.  Eleven of Illinois last 14 wins have been decided by three runs or less.  I'm no Dan Hartleb but I know that a good bullpen matters in close games.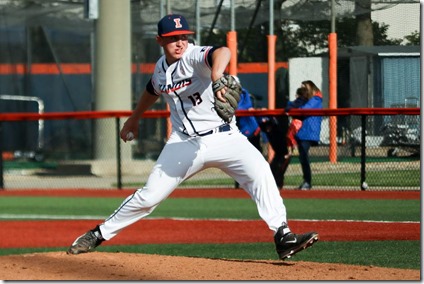 One of those relievers, Ryan Schmitt, is featured in a Fighting Illini article highlighting all freshmen and their accomplishments.  Schmitt has racked up four wins and that is encroaching on the all-time Illini record list.  He needs one more victory to make the top ten. 
Other freshmen mentioned are Ty Weber who is already sixth in innings pitched, Michael Massey who needs one more homer to crack the top ten in homers and three more rbis to make that list.  Four frosh pitchers, Weber, Watson, Schmitt and Ryan Thompson all have chance at the top ten Illini in strikeouts too. 
The freshmen are getting some good experience this year and are steadily developing.  The future really bodes well for the Illini! 
Go Illini!!
Related posts