Critical Massey: Trying for 15 games straight
Illinois baseball is returning home after a lengthy eight-game road trip to attempt a Big Ten comeback.  The Illini will be hosting first place Maryland (30-13, Big 10 13-5) this weekend at Illinois Field for three games. 
On a current 13-7 winning stretch, the Illini are hoping to qualify for a Big Ten Tournament berth with just three weekends left.  At 5-10 in the Big Ten, they are now in 10th place in the conference.  They are eyeing Michigan State (7-8) who occupy the last tournament spot at 8th place. 
Freshman Michael Massey will be trying to extend his hitting streak to 15-games.  With another good weekend, he could win his third Big Ten Freshman of the Week award. 
Friday's game begins at 6pm. 
Stats of note
Michael Massey 14 multi-hit games this year

Jack Yalowitz .101 total bases (2nd in Big Ten)
Fighting Illini weekend preview
Pitcher probables
Friday  Ty Weber: 2-5, 4.34 ERA
Saturday  Cyrillo Watson: 1-4, 6.35 ERA
Sunday  Matthew James 1-1, 5.35 ERA  
Matt James is coming off his first win last Sunday.  Both Ty Weber and Cyrillo Watson got no-decisions last weekend.  With his win in relief, Ryan Schmitt is now the unlikely team leader in victories with four. 
Zak Devermann has been called from the pen lately. He made three appearances in the past week and has thrown 2 2/3 perfect innings.   
A quick summary of the weekend…
Illinois Field

 

Champaign, Illinois

Fri. May 5

6:00 pm CT

Sat. May 6

3:00 pm CT

Sun. May 7

12:00 pm CT

vs

 

W-L: 29-13 B1G 13-5
 My take on Maryland:  Maryland is the team going into the homestretch of the conference season.  With a 13-5 Big Ten record, they are the favorites to win the crown. 
The Terrapins rank third in ERA with a 3.67 mark and fifth in hitting with a .278 batting average.  Only one team has more homeruns than Maryland's 43 in the Big Ten.  The good news is that it is Illinois with 45. 
While Maryland has done extremely well at home at 18-1, they have struggled on the road with a 7-10 record.  Illinois hopes that trend will continue. 
Random Ramblings
It feels like it's been raining all week but as I write this on Thursday evening, it is starting to clear up.  With a little luck, Friday's big game may have nice weather.  Despite that, some of the fun promotions planned for Friday are going to be postponed till Illinois' series against Iowa on the weekend of May 18-20.  This includes the Bleacher Bum BBQ, Lou Boudreau Day and fireworks,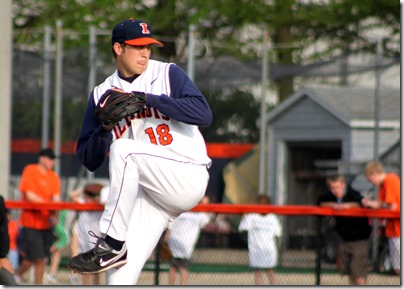 I had the pleasure of Lee Zerrusen's company for lunch earlier this week.  Lee who pitched for the Illini from 2008-2011, was one of the nicest Illini players I've ever encountered.  That's him mowing down the Northwestern Wildcats in 2010.  He now uses his people skills as the Coordinator of Student, Alumni, and Corporate Relations for the College of Engineering at the University of Illinois.  As two people who support the students and staff of the University, we enjoyed talking about University goings-on as well as the ins and outs of Illinois baseball. 
See you at the ballpark! 
Related posts