Casey Dodge gets welcomed back to the dugout by Doran Turchin after hitting a homer on Sunday
Illinois Baseball travels for their first road Big Ten series this weekend.  Beginning Friday, they will take on a tough Michigan team.  Currently ranked #18, Michigan is 10-1 on their home turf. 
Illinois is 10-16 but is coming off a four-game win streak including last weekend's three-game sweep of Indiana State.  They are hoping to start adding to their conference win total.  Currently, Illinois is 0-3 in Big Ten play. 
Play begins early at 3pm this Friday. 
Fighting Illini weekend preview
Pitcher probables
Friday  Cole Bellair: 1-2, 6.91 ERA
Saturday Ty Weber: 2-2, 3.80 ERA
Sunday  TBA  
Both Cole Bellair and Ty Weber are looking to repeat their successes from last weekend which resulted in wins for Illinois.  Weber in particular, is coming off a dominant performance which garnered him both the Big Ten Pitcher of the Week award as well as Big Ten Freshman of the Week honors.  His complete game last Saturday was the first for Illinois this year. 
Sunday's TBA is due to slight injury that Luke Shilling suffered last Sunday.  I'm sure Shill wants to get out there but Coach Hartleb most likely wants to be cautious. 
A quick summary of the weekend…
Wilpon Complex

Ann Arbor, Michigan

Fri. April 7

3:00 pm CT

Sat. April 8

1:00 pm CT

Sun. April 9

12:00 pm CT

 

vs

 

W-L: 23-6, B1G 4-2
 My take on the Wolverines:  The Big Blue (23-6) started out the Big Ten season with two straight losses but they were against arguably one of best teams in the conference, the Terrapins of Maryland.  Since then, Michigan has won four straight conference games including a sweep against Penn State. 
There's a reason Michigan is #18 in the country.  They score runs.  In their last six games, they have scored in double digits in five of them.  For the season, they have scored more than twice as many runs as their opponents (208 to 102).
There isn't a downside to Michigan.  Their pitching is solid with a conference-best 3.07 ERA and more strikeouts than innings pitched (263 Ks in 258 IP).  Drew Lugbauer (8 HR and 34 rbis) leads a lineup that can score (I know, I said that already. It's worth repeating).  Only Michigan State (.294) has a better team batting average than the Wolverines (.290).
Random Ramblings
Michael Massey's two homers helped propel Illinois to a 5-3 victory in their midweek game over Missouri at GCS Ballpark in Sauget, Illinois.  This preserved Illinois' bragging rights over Mizzou.  Kudos to the freshmen who pitched in that game; there were four, Cyrillo Watson, Zack Jones, Ryan Thompson (who got the win, his first), and Ryan Schmitt.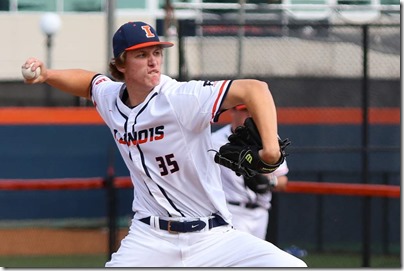 The fifth pitcher, sophomore Joey Gerber (above) earned the save.  Before Friday, Gerber had zero saves.  In a matter of four games, he has saved three.  What's more impressive is that in those three innings, he struck out eight batters.  I'm wondering if Coach Hartleb has found his closer.
Pat the Bat Watch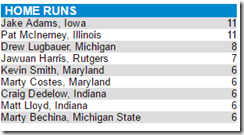 Jake Adams homered in Iowa's midweek game so he and Pat McInerney are now tied for the Big Ten lead with eleven each.  Not to add any pressure but weekend opponent Michigan's Drew Lugbauer ranks third with eight.  Pitchers, don't give him anything good to hit, please! 
Go Illini!!    
Related posts