Ty Weber takes on the Wildcats Friday night
Illinois Baseball is on its best this roll season.  With its three-game sweep against Indiana State, two midweek wins, and a win versus Michigan, the Illini have won six of its last eight games! 
The boys in Orange and Blue will look to extend their winning ways this weekend when the Wildcats of Northwestern come visiting.  The Illini will host the Wildcats for three games at Illinois Field starting Friday at 7pm. 
With a 1-5 conference record, Illinois hopes to leapfrog 10th place Northwestern who checks in at 2-4 in the Big Ten. 
Fighting Illini weekend preview
Pitcher probables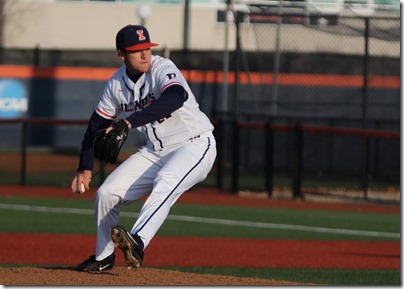 Friday  Ty Weber: 2-3, 4.34 ERA
Saturday Cyrillo Watson: 1-2, 5.61 ERA
Sunday  TBA  
It's a bit of a pitching shakeup in the rotation this weekend.  I called it a while ago but Cyrillo Watson (above) will get his first scheduled start.  Up until this week, Watson has been the consistent pitcher during midweek games.  While his record (1-2) doesn't show it, he has had some good stuff.  Watson filled in last weekend for Luke Shilling when he was a late scratch and he responded with a win over Big Blue. 
I'm hoping that Sunday's TBA means that there is a chance that Shilling may return.  If not there's always Cole Bellair who is one two starters with two wins.  Or how about Matt James who put in a fine performance on Tuesday in his hometown of Normal?  Against Illinois State, he logged five innings and gave up just one run on two hits.  
A quick summary of the weekend…
Illinois Field

Champaign, Illinois

Fri. April 14

7:00 pm CT

Sat. April 15

3:00 pm CT

Sun. April 16

1:00 pm CT 

vs

 

W-L: 12-20 B1G 2-4
 My take on the Wildcats:  Northwestern's 12-20 season record may not seem too daunting but considering that they lost their first seven games of the year, they haven't done too bad.  Like the Illini, they are doing well now too.  They have won their last four games including their last two games over Big Ten rival Iowa. 
The Wildcats don't have much in terms of power.  Their whole team has as many homeruns as our Pat McInerney does (11).  They do have some players who can make contact such as Matt Hopfner who is batting .315 with a team-leading 26 runs. 
While Northwestern's ERA is better than Illinois', it's not by much.  The Wildcats rank 10th in the conference with a 5.65 mark.  There are some bright spots including Friday starter Cooper Wetherbee who sports a 2.19 ERA in two starts and eleven appearances. 
Random Ramblings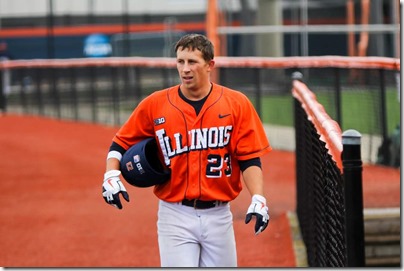 It was a big win over Illinois State on Tuesday.  Pinch hitter Tyler Engel (above) got the game winning rbi on a sac fly in the 10th inning. 
As noted, starting pitcher Matt James had a fine outing in front of his hometown.  Three of his five innings were 1-2-3 innings.  By the time he was done, he had only given up just one run and two hits. 
Joey Gerber has really come on as Illinois' closer lately earning four saves in the past two weeks.  Tuesday however, he went three innings to win his first game of the year.  Rest up, Joey.  We may need you this weekend. 
Jack Yalowitz banged out 4 hits for his 11th multi-hit game of the year.  He's now hitting .360 for the season. 
Lots of promos at the ballpark this weekend!  The "Fighting Illini Bunny" (they can't call it Easter, I guess) will be on hand on Saturday and Sunday.  Join the egg hunt! 
Habitat for Humanity will be raising funds. Also, new Illini baseball cards will be out! 
See you at the ballpark!  
Related posts