Freshman Michael Massey is on a hitting tear
The Illinois baseball team continues its lengthy road trip by traveling to the University of Minnesota.  The Golden Gophers (24-12, 8-4 Big Ten) are hosting the Illini who were swept by the Purdue Boilermakers last weekend in a conference series. 
Illinois (16-22, 3-9 Big Ten) will play second place Minnesota three games this weekend.  Friday's game time is 4pm CT.  Note that there is a schedule change.  Instead of a Sunday game, there will be a doubleheader starting at 1pm. 
Illinois came back to win their midweek game against Bradley 8-6 on Tuesday. 
Stats of note
Michael Massey 11 for 21 in last five games

Joey Gerber 6 saves, 2.77 ERA and .194 opp. BA

Jack Yalowitz .team leading 332 batting average and 32 rbis
Fighting Illini weekend preview
Pitcher probables
Friday  Ty Weber: 2-4, 4.03 ERA
Saturday Game 1  Cyrillo Watson: 1-4, 6.94 ERA
Saturday Game 2  Matthew James 0-1, 6.06 ERA  
We're looking at the same three pitchers as last weekend's rotation… with hopefully better results for the Illini. 
Honestly though, Ty Weber, Cyrillo Watson and Matt James didn't do too bad against Purdue considering the series sweep by the Boilermakers.  Between the three of them, they gave up six runs in their starts. 
Don't tell Cyrillo but he's still listed as an OF-RHP on the Fighting Illini roster. 
A quick summary of the weekend…
Siebert Field

 

Minneapolis, Minnesota

Fri. April 27

4:00 pm CT

Sat. April 28

1:00 pm CT

(doubleheader)

vs

 

W-L: 24-12 B1G 8-4
 My take on the Golden Gophers:  Frankly, the first thing that comes to mind when it comes to Minnesota is that their logo looks like an upside down "W".  That "W" could stand for "wins" since this has been a good year for the Golden Gophers.  At 24-12, they stand at second place in the Big Ten only behind Maryland.
The Gophers' pitching is solid behind Lucas Gilbreath (4-0, 2.55 ERA) but the Gophers' real strength lies in their offense.  While they're not blessed with tremendous power, they put the bat on the ball.  At .291, they are second in the conference in hitting behind Michigan.  Luke Pettersen leads the crew with a .339 batting average.   
Random Ramblings
The Illini came through with an exciting win against the Bradley Braves on Tuesday.  The offense rallied for five runs in the eighth inning to take the lead for good.  This game had pretty much everything including a double steal with Mark Skonieczny stealing home.  It was Skony's first career stolen base.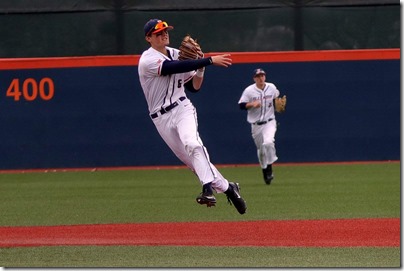 The reigning Big Ten Freshman of the Week isn't resting on his laurels.  Michael Massey went three for five against Bradley.  Massey is 11 for 21 in Illinois' last five games.  I'm thinking he doesn't want to give that award up. 
And yeah, he plays pretty good defense too.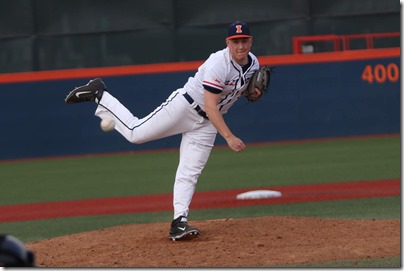 Ryan Schmitt (above) got the win on Tuesday by pitching 1 2/3 perfect innings.  That's his third victory of the year tying him for the team lead in wins with Cole Bellair and Quinten Sefcik.  Strange season when our team is winning late and getting wins for the bullpen.  Joey Gerber has six saves now after closing down Bradley on Tuesday. 
The May 5-7 series against Maryland has plenty of promotions to whet your appetite.  The immensely popular Bleacher Bum BBQ will be on May 5.  It has historically been the most attended game of the year.  Free food (if you get there on time)!! 
Also on Friday May 5th is Lou Boudreau Day!  As a big baseball buff, I'm looking forward to this! 
And finally, Fighting Illini baseball have just unveiled new uniforms that will be worn on the sixth annual "Honor and Serve Day" which is May 7th's game against Maryland. 
Here they are. This year's Honor and Serve uniforms are absolute » https://t.co/zKjthwm3ns pic.twitter.com/rIyOHHKifY

— Illini Baseball (@IlliniBaseball) April 26, 2017
These jerseys will be auctioned off after the game on May 7th to benefit a local charity.  The baseball program has raised over $34,000 in the past five years to help local charities in the area. 
Go Illini!
Related posts