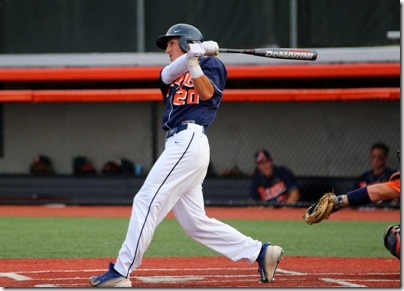 Doran Turchin: two dingers on Friday night
Last weekend in Boca Raton, Illinois baseball really showed what its offense could do but with the wind blowing out combined with an inexperienced pitching staff, the good guys came away with just one Saturday win against the Florida Atlantic Owls. 
Illinois hit a total of ten homeruns and scored a total of 25 runs on Friday and Saturday.  Unfortunately, Friday's game ended in a heartbreaking 11-10 loss.  Ty Weber gave the Illini a good performance for his first career win, 14-4.  Sunday effort was a mirror image of Saturday's game when Illinois lost to the Owls, 16-2.
Jack Yalowitz led Illinois with a .500 (6 for 12) batting average for the weekend. 
Here's a quick recap of the weekend.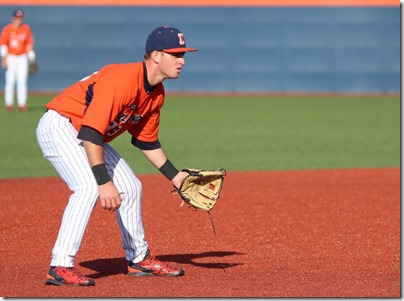 For the second Friday in a row, Illinois was embroiled in a one-run slugfest.  This time, they didn't quite pull it out losing 11-10. 
Trent Hammond (above) came out of his 2017 ohfer streak in a big way.  He drove home a run with a base hit in the second inning.  In the 4th, he hit a two-run homerun.  That was one of four homeruns by the Illini.  Doran Turchin hit two solo shots while Pat McInerney contributed a 3rd inning solo shot.  For the game, Mac was 3 for 5 with 3 rbis and two runs and a double in addition to his dinger. 
Starter Luke Shilling is getting his feet wet.  In three innings, he allowed 7 runs on five hits and six walks. 
Illinois got some payback on Saturday though.  The wind at FAU Stadium must have still been blowing out as the good guys hit a total of six homeruns to dominate the Owls 14-4.  Jack Yalowitz added to his hit total going 4 for 5 with two dingers while David Craan added two more homers and drove in four runs.  Bren Spllane and Casey Dodge each hit their first homer of the year (both hit a double as well). 
Speaking of firsts, Ty Weber put in a good performance and recorded his first career win.  He allowed just one run in six innings striking out four. 
http://www.fightingillini.com/boxscore.aspx?path=baseball&id=12573Box
On Sunday, the winds may have blowing but the Illini couldn't take advantage.  The Owls simply outhit the Illini.  Outside of a couple doubles by Tyler Engel and Ryan Haff, the Illinois offense just lost whatever they had the past two days.  The Owls outhit Illinois 18 to 8 and as a result won 16-2. 
Seven Illinois pitchers appeared in Sunday's game against Florida Atlantic and only Zak Devermann escaped relatively unscathed (1 IP, 1 H, 0 ER). 
Random Ramblings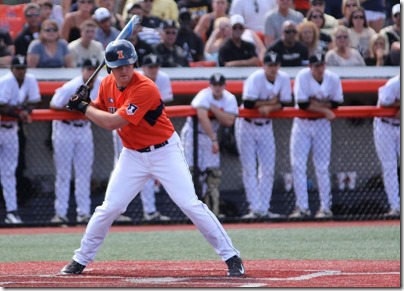 Well, the Illini scored 27 runs in three games this past weekend.  Going on previous weekends, this reinforces the thought that offense is definitely there for our guys.  A total of 10 homerun were hit in the first two game by our guys.  The biggest threat?  It's still Jack Yalowitz who hit .500 (6 for 12) and raises hit overall batting average to .425.  Big Pat McInerney (above) is posting some big numbers too.  He's batting .366 and leads the Illini with 3 homers and 13 ribbies. 
At the beginning of the season, we were told that this is a young team. Bear that in mind, when you glance at the 8.09 team ERA.  I know, it's not easy.  I truly believe that we have good arms in our pitching staff.  We may not see the results for a while but we will see them. 
On a more positive note, take a look at the NCAA baseball stat page.  You'll find that the Illini are now leading the nation in one key stat.  They are #1 in the nation in defensive double plays.  And while are tied with Duke and Virginia Tech with 17, it's only taken Illinois ten games to reach that mark.  The key players involved?  You can look towards 2B Michael Massey (13) and SS Ben Troike (11) who are the ones turning the double dipper.
I'm getting ahead of myself but next weekend's series against Coastal Carolina was going to be the big test for the Illini.  Don't get me wrong, it looks like Illinois already has plenty to deal with already.  That said, last year's national champion have gotten off to a less than stellar start.  The Chants are ranked #21 and already have five losses at 9-5.  Either way, it would be a feather in Illinois' cap if they could muster a series win.  
Which bring me to…
Next up
Illinois will be going south again but not as much as we're used to.  They're going to Conway, South Carolina to face the Chanticleers of Coastal Carolina for a three-game series.  Friday's game begins at 3pm. 
And the good news is… This will be the LAST series before Illinois' first home game!!
Go Illini!
Related posts