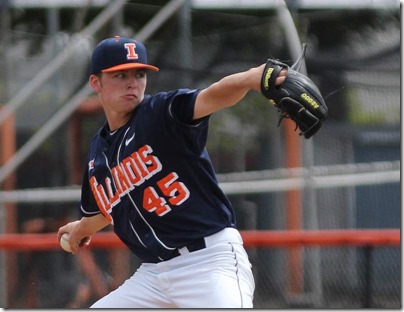 Ryan Thompson gets a shot against the Owls on Sunday
With their 2-5 record, Illinois is traveling south again. This weekend, they are heading to Florida visiting Boca Raton where the Florida Atlantic Owls (4-3-1) will play host for three games. 
Illinois hopes to improve on their record.  Their starting lineup have been hitting well and the defense has shown some brilliance.  I'm sure Coach Hartleb is looking for some improvement from the pitching that has a 6.82 ERA. 
Fighting Illini weekend preview
Pitcher probables
Friday  Luke Shilling: 1-0, 5.40 ERA
Saturday  Ty Weber: 0-0, 5.19 ERA
Sunday  Ryan Thompson: 0-0, 8.31 ERA 
This season, there's been a change in the pitching each weekend and this time there's no exception.  Most notably, freshman Ryan Thompson will get a chance on Sunday to show his stuff.  Thompson has two appearances but it will be his first college career start. 
In addition, Luke Shilling will continue to be the Friday starter.  Despite a bit of setback last weekend ( Luke gave up four runs and a total of seven walks in four innings), he seems to have that Friday job until some takes it from him.  Ty Weber has so much potential that I'm thinking Coach Hartleb is giving him a long leash. 
Throw hard, guys!
A quick summary of the weekend…
FAU Baseball Stadium

Boca Raton, Florida

Fri. March 3

5:30 pm CT

Sat. March 4

3:00 pm CT

Sun. March 5

11:00 am CT

 

vs

 

W-L: 4-3-1
 My take on the Owls:  This won't be FAU's first foray against a Big Ten team.  They have taken on Indiana University just last weekend.  The Hoosiers went 1-1-1 against them  Yes, because of a travel curfew, the Owls and Hoosiers played to a 6-6 tie. 
FAU did get off to a 3-0 start and they have players like Tyler Frank 21- for 40, 3 HR) and Stephen Kerr (12 for 29, 2 HR) to thank for that. 
Opponents have been able to tap into Owls starting pitching so perhaps the Illinois hitters can do the same. 
Random Ramblings
This will be the first weekend that the Illini will be facing the same opponent for the entire series.  Tournaments definitely have a certain appeal but I think from a competitive standpoint, the boys are looking forward to playing a good old fashioned three game series against one team.  There's more of a rivalry aspect throughout the weekend. 
While the Illini are 2-5 going in the weekend, they still rank in the nation in one statistic.  They are tied for fifth in the nation in double plays per game as well as fourth overall with eleven.  You can credit freshmen Ben Troike and Michael Massey who helped contribute to five double plays in Illinois' game last Friday.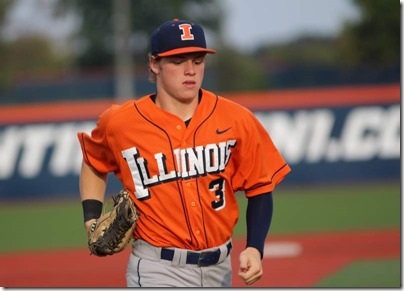 Looking at the stats very quick, much has been made of the performances of Pat McInerney, Ben Troike, and David Craan. However, it's none other than Jack Yalowitz (above) who is now quietly leading the Illini in hits (11), batting average (.393) and runs scored (9). 
Yalowitz joins five other Illinois starters who are hitting .300 or better. 
Go Illini!!    
Related posts