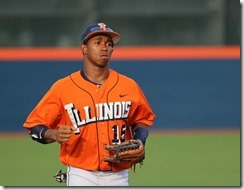 Craan makes the All-Tournament team
Last weekend, Illinois Baseball participated in the Kleberg Bank College Classic hosted by Texas A&M-Corpus Christi. The Illini (2-5) came away with just one Friday win but with a couple more runs and maybe some momentum in the right time, it could have easily been 3-0 Illinois.
Pat McInerney had a phenomenal weekend. So much so that I was surprised that he didn't take Big Ten Player of the Week honors. Over the three games. he went 6 for 13 with nine rbis. His homerun against Missouri is his second of the year. I await further great things from Pat this season.
The tourney last weekend saw an upsurge in offense from some new guys too. Freshmen Michael Massey, Ben Troike, and sophomore David Craan all really came through with the bat.
Here's a quick recap of the weekend.
There is something fascinating about a one-run slugfest. That's exactly what we got on Friday. Though the Illini got off to a 6-1 lead early, the islanders caught up soon after and it was a a close game till the end.
Pat McInerney and Ben Troike were among the big boppers on Friday. McInerney drove in five runs with a double and a single. Troike collected four hits driving home three runs while scoring three more. David Craan who went 3 for 4, crossed the plate four times.
The Illini defense did their job. While A&M-Corpus Christi scored 14 runs, they could have scored more. Illinois tied a record with five defensive double plays. Here's a montage put together by Illini Baseball.
Both routine and flashy… Here are all five of the #Illini's program record-tying five double plays from Friday » https://t.co/8mDV0oUCvt

— Illini Baseball (@IlliniBaseball) February 27, 2017
Saturday's loss to ranked Houston is a little misleading if you're going by the final score. The Illini really held on. In fact, the Illini had a 5-0 lead at the third inning. Going into the bottom of the eighth inning, Houston only had a 7-5 edge and Illinois was very much in the game.
Mcinerney and Craan were again the big players of the game. McInerney banged out three hits and Craan drove in two runs on two hits.
On Sunday, Illinois' scoring against rival Missouri can be easily summarized. In the first inning, freshman Michael Massey hit a three-run homerun. In the second, Pat McInerney hit another. Unfortunately, that was all the scoring Illinois would do while Mizzou tallied a few more.
Ben Troike rapped three hits while Bren Spillane collected two safeties.
Random Ramblings
On Sunday, the All-Tournament team was announced. Here are the Illini that were awarded.
David Craan (6 for 10)

Pat McInerney (6 for 13, 9 rbis)

Ben Troike (8 for 14)
Congrats to these players for making their Orange and Blue presence known at the Kleberg Bank College Classic!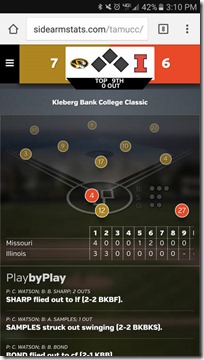 During the early part of season, I really miss not seeing the actual games. Time constraints just don't allow for me to travel to the warmer regions and I count the days till the boys return to Illinois Field.
This past weekend, I was out of town myself so the best way to follow the games was online on my mobile phone.
It's not the same as being there but all things considered, most of the online live stats apps (this one is provided by Sidearm Stats) do a fair job of providing the right info. I also like to follow Illinois Baseball's Twitter account for a more human angle with some interaction.
The link for live stats is provided under each game under the schedule.
Next up
Illinois will be traveling to Boca Raton next weekend to face Florida Atlantic for three games. Game time for Friday is 5:30pm.
Go Illini!
Related posts