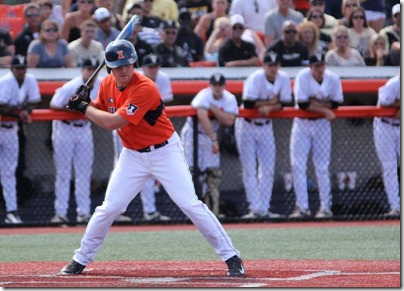 Pat McInerney wants to add another homer or two
After a 1-3 opening weekend at the Lamar Cardinal Classic, Illinois baseball will travel back to Texas this weekend.  This time they are visiting Corpus Christi and will hosted by the Texas A&M-Corpus Christi islanders.  The islanders are hosting a tournament at Whataburger Field involving Missouri and Houston. 
Illinois hopes to break their three-game losing streak with the hurler who won their opening day game.  That man is Luke Shilling (1-0, 1.80 ERA) who has already surpassed his win count from all of last year.  Freshman Michael Massey will also look to extend his four-game hitting streak.  Currently, Jack Yalowitz leads all starters in hits and total bases.  Pat McInerney has the sole homerun for the Illini. 
Pitcher probables
Friday  Luke Shilling: 1-0, 1.80 ERA
Saturday  Quinten Sefcik: 0-1, 5.06 ERA
Sunday  Ty Weber: 0-0, 0.00 ERA 
In addition to Shilling, Illinois will be going to Quinten Sefcik on Saturday and Ty Weber on Sunday.  It looks Sefcik drew the short straw and will be facing the ranked Houston Cougars on Saturday.  While freshman prospect Weber gave up five walks, he was almost unhittable against Lamar last weekend in in short start allowing just two hits in 4 2/3 innings. 
A quick summary of the weekend…
Whataburger Field

Corpus Christi, Texas

Fri. Feb. 24

6:00 pm CT

 

vs

 

W-L: 1-2

Sat. Feb. 25

2:00 pm CT

vs

 

W-L: 3-1

Sat. Feb. 26

11:00 am CT

vs

 

W-L: 3-1
 My take on this weekend:  There is no doubt that this will be a big test of Illinois. Take a look at this week's NCBWA polls.  One of Illinois' opponents, Houston, is ranked.  Another opponent, Missouri, is making a good case for it if they keep up their offense.  The combined record of all three teams is a daunting 7-3.. 
Not to be confused with the #15 Aggies, the Islanders of Texas A&M-Corpus Christi are not ranked.  Last weekend, they went 1-2 against our neighbor, the Bradley Braves.  They did manage to scored in double digits in their win on opening day though. 
#29 Houston's offense is certainly overwhelming but it was their pitching that got the job done in the first weekend.  They allowed just four earned runs in their first three games.  Half of their runs allowed were unearned so capitalize on that defense.  The good news?  They just lost their last game to crosstown Houston Baptist, an unranked team. 
It looks like Illinois is scheduled to play rival Mizzou twice this season.  The Tigers' offense went nuts last weekend against Eastern Michigan after losing the opener.  In the very next game, they got their revenge by scoring 27 runs.  So the potential for big offense is there. 
Random Ramblings
In case you're wondering, the weather in Corpus Christi looks very nice this weekend in comparison to the game-delaying storms the Illini experienced last weekend in Beaumont.  There should be plenty of sunshine and "cooler" which in Texas means highs in the 70s, I'm gathering.  There may be a slight chance of a shower on Sunday but it doesn't look game-threatening.  
Giving them their due, here are the Big Ten players of the week which was awarded on Monday. 
Player: Dan Durkin, Michigan State

Pitcher:  Tanner Andrews, Purdue

Freshman: Jake Matheny, Indiana
Player of the Week Durkin is from Tinley Park, Illinois, by the way.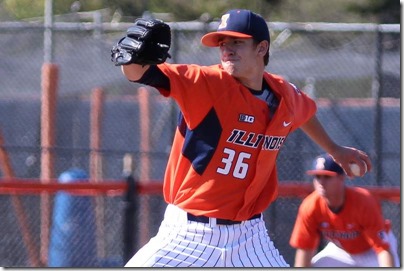 If you have been wondering what is going on with starter Doug Hayes, you aren't the only one.  I was wondering the same thing.   Doug was the obvious Friday starter going into this season but he didn't touch the rubber all weekend.  It looks like an injury is keeping him from pitching so we may not see him on the mound for a while.  It's a tough break for Doug and will definitely impact the overall pitching of Illinois. 
Get well, Doug!!
Looking at the bigger picture, defending national champion Coastal Carolina (1-3) has already lost three games in this young season.  They are still ranked at #19 as of this week.  Illinois is scheduled to face the Chants for three games in Conway, South Carolina in three weeks before they head back to Champaign. 
Go Illini!!    
Related posts