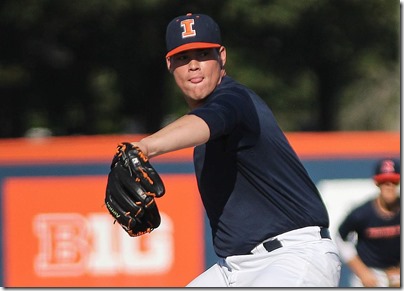 First career win for Shilling
Battling the weather in Beaumont, Texas, the Illini came away with an opening day win at the Lamar Cardinal Classic this weekend.  After that, it was a matter of bad timing.  When they scored nine, their opponent scored 15.  When they held their opponent to just two two runs, offense just couldn't come through. 
Coach Hartleb saw the silver lining though. He did his best, at least. 
"It's early but there's obviously some disappointment in my mind.  But I like our players, I like our abilities. I wish we had a game tomorrow but we'll have to go back and work on some stuff before next weekend."
He'll have a few days before returning back to Texas again.  Here's a quick recap of the weekend. 
Illinois got off to a good season start against Milwaukee once they started playing.  The game was delayed over five hours due to the heavy rains in Texas on Friday.  Once the game was going, it was all Illini though. 
It was Luke Shilling on the mound and honestly, he performed like I thought he would.  He allowed just three hits and one run in five innings.  He struck out six Panther batters as well as walking six others.  Matt James and Jackson Douglas pitched the balance of the game allowing just one more run. 
There is a lot to be said for the offense of Game 1. Michael Massey and Jack Yalowitz both collected three hits for the day.  In the 3rd inning, Bren Spillane hit a bases-loaded triple.  By the end of the third inning, it was already 9-0 Illinois.
On Saturday, the Illini weren't able to execute.  Illinois actually out-hit Milwaukee 8 to 6.  One of those hits was a solo homer by Pat McInerney, the first homerun by an Illini.  In addition, DH Casey Dodge hit safely three times. 
Quinten Sefcik allowed five hits and three earned runs in 5 1/3 innings for the loss.  Relievers Zack Jones and Cyrillo Watson struck out a combined total of six opponents in just 2 2/3 innings. 
In Saturday's second game against Lamar, things got a little wild and wooly.  Lamar looked liek they were going to run away with it getting off to a 13-3 start by the fifth inning.  Matters weren't helped in the fourth inning when three Lamar runs scored when two walks drove in runs and one more hit-by-pitch drove in another with the bases loaded. 
But the Illini did make the game interesting.  They put together two runs in the sixth capped by Jalin McMillan's rbi double.  In the eighth, Matt James rapped a bases-loaded triple and then scored himself on another triple by Jack Yalowitz. 
It was too little too late though as Illinois fell 15-9. 
The final game against Lamar took a different turn than Saturday's slugfest.  It was a old fashioned pitchers' duel.  It was goose eggs for both teams for the first seven innings.  Freshman Ty Weber lasted 4 2/3 innings for the Illini and only gave up two hits. He struck out three and walked five. 
Dan Rowbottom put Illinois on top first with a rbi single scoring Yalowitz.  The Cardinals followed up with a tying run in the bottom of the inning.  The game went into extras and in the bottom of the 10th, the winning Cardinal run scored on a wild pitch. 
Random Ramblings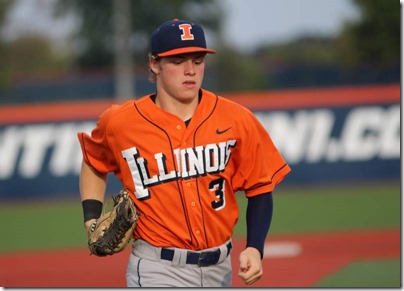 Jack Yalowitz is off to a good start this season.  He had eight hits and four rbis over the weekend.  Freshman Michael Massey from Brother Rice, hit in every game and has five hits total.
And just a reminder, total stats for the Illinois baseball team are here.  You can also access each individual player's game stats from their bio page too. 
Next up
The Illini will travel to Texas again next weekend.  They will be head to Corpus Christi for a three-way tournament with Texas A&M, Missouri, and Houston. 
I'm hoping the weather clears up by then. 
Go Illini!
Related posts