One of my all-time favorite Illini athletes is on the road to beginning to make the big time. Early last month, it was announced that former Illinois shortstop Shawn Roof will be head coach of the Hillsboro Hops, the Class A Short Season affiliate of the Diamondbacks this year. Roof will take the reins with help of assistant coaches Franklin Stubbs and Mike Parrott both former big leaguers.
ICYMI: "Introducing new Hops manager: Shawn Roof" on #TheHopStove https://t.co/KoB6DlQKSB #AllHoppedUp

— Hillsboro Hops (@HillsboroHops) January 9, 2017
Long time Illini fans will remember Shawn Roof who played for Illinois from 2004 to 2007. He had a way of leaving his mark on every team he played. He played hard and was known for his hustle on the field. When asked how his team would play in his introductory interview, he responded,
"We are going to play with a lot of energy, play hard, and respect the game".
I'm not surprised by this answer one bit.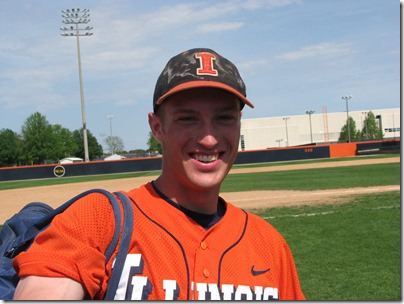 Roof during his Illini days
As hard as he played the game on the field, he was a very sincere and approachable person. Roof and I connected during the 2006 off-season and have been in touch ever since. When he graduated in 2007, he was drafted by the Detroit Tigers. Roof bounced around the minor leagues for six years reaching as high as Triple-A in 2010 with the Toledo Mudhens.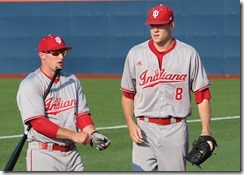 When playing the game wasn't in the cards, Roof's people skills and knowledge of the game gave him the edge he needed to land a coaching job with the Baltimore organization from 2013-14. Later, Roof was a visitor to Illinois Field in 2015. He had taken a coaching job with Indiana and his Hoosiers swung by for a series.
Now, Roof has his own team and I couldn't be more proud. If the Hillsboro Hops team name seems a little familiar, it may be that Adam Walton (a more recent Illini star shortstop) spent some time there last year.
Illini records still held by Shawn Roof
Most Career HBP – 45
Most HBP in one season, 2007 – 22
3rd most HBP in one season, 2006 – 17
Most HBP in one game – 4
4th most career SB – 65
2nd most SB in one season, 2007 –40 (tied with Kyle Hudson)
Most SB in one game – 4
Good luck, Shawn!
Related posts