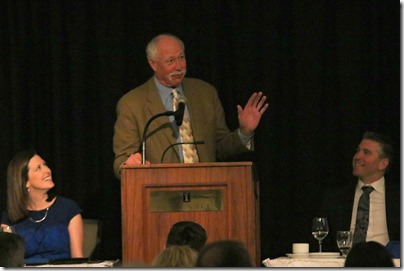 Last night, the Illinois baseball program celebrated at its annual Hot Stove Banquet. Sponsored by the Illini Baseball program and the Illinois Baseball Dugout Club, the Hot Stove is held every year in the offseason. Fans at the banquet were treated to a terrifically uncompromising speech by Hall of Fame relief pitcher Goose Gossage.
I don't have the exact numbers but this year's banquet was filled to capacity. I know this because the auction items that were normally in the ballroom where attendees would dine were placed in three breakout rooms at the iHotel. Yet even with additional space, the ballroom was still packed.
The Hot Stove Banquet serves many purposes. It is seen as the kickoff for the new season (it won't be long before practice starts). The banquet is a fundraiser for the Illinois baseball program. In many ways, it is a reunion. Many former players come back to support the program. And of course, it is a great time to give due recognition to those that deserve it, meet the players and listen to a great speech by the honored guest.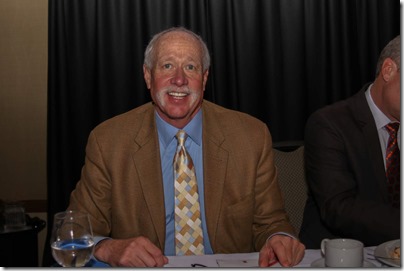 Speaking of such, I had a chance to meet Goose Gossage briefly after dinner. He is a very gregarious fellow. I mentioned that Steve Garvey was the speaker at last year's banquet and he talked a bit about the 1984 playoffs. Knowing I was a Cubs fan, he said, "And what about Lee (Smith)?" referring to his Hall of Fame snub.
When he spoke to the crowd, Gossage began by talking about his roots in Colorado Springs and how he learned to love the game of baseball at a young age. The highlight of his talk in my opinion, was his perspective of George Brett's pine tar incident. He told it with a lot of humor and honestly, I learned a thing or two.
Gossage was opinionated when it came to Pete Rose in the Hall of Fame ("he broke the cardinal rule we were all taught when we first joined up"), pitch counts ("we didn't have pitch counts. If you got tired, they would come and take you out.") as well as steroids-users in the Hall of Fame.
Goose had a chance to meet with the team earlier in the day in the clubhouse and he mentioned that was what it was all about ("I'm not even a part of this program but it's still baseball").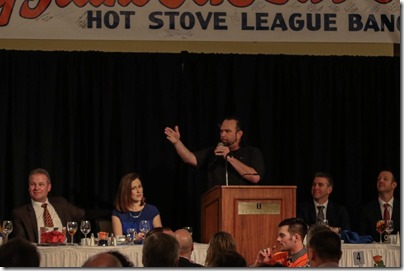 Mike Namoff who conducts the live auction during the banquet is always an entertaining feature of every Hot Stove Banquet. While he incorporates a lot of humor in the live auction, he is very effective at getting bids for the high-ticket items.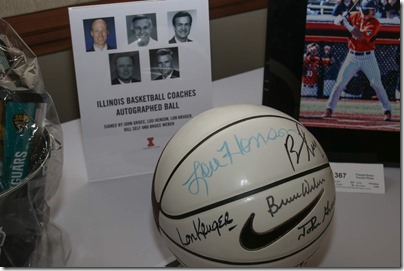 This was a hot item; a basketball signed by the last five Illini coaches
This year, people could bid on items in the outer rooms using an online app called Bidpal. No pen and paper needed! Coach Hartleb gave credit to Sports Information Director Brett Moore and Coach Kyle Hudson for getting that up and running.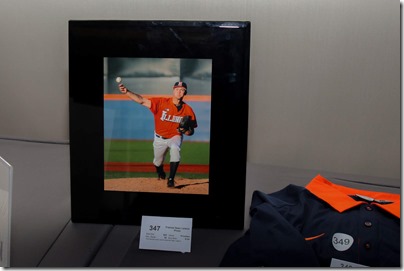 IBR donates to the auction
This year, I reached out to the program and asked if I could donate some of my photos to the auction. They took me up on my offer and I'm hoping to do this again.
Between the live auction, the Bidpal auctions and banquet admissions, over $63,000 was raised!
From L to R: Adam Walton, JD Nielsen, Ryan Nagle. Wes Braun, Dom Altobelli
As I mentioned, every Hot Stove Banquet is a reunion of sorts. It was great to see former players from ten years ago like Dom Altobelli as well as recent alum such as Cody Sedlock. I got a chance to chat with all of them. At every banquet, a current player is assigned to every table in an effort for people to learn the team.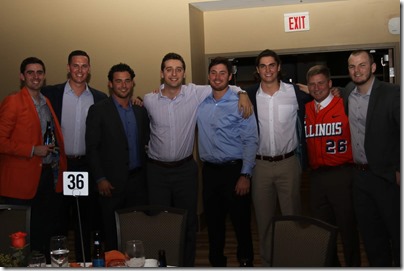 From L to R: Anthony Milazzo, JD Nielsen, Adam Walton, John Kravetz, Ryan Nagle, Cody Sedlock, Grey Schultz, Charlie Naso
I had to feel for catcher Grey Schultz. He was assigned to Table 36 which was entirely made up of recent Illini baseball alum. I hope you got through the night ok, Grey.
As for me, I had the privilege to sit next to Tyler Engel's father, Tim. We had fun chatting for most of the night and I learned a couple things about Tyler (he starred in football, basketball as well as baseball in high school).
Another successful Hot Stove Banquet is in the books. The man who deserves most of the credit is Coach Dan Hartleb who works tirelessly no matter what time of year it is.
You can find a few more photos from the Hot Stove Banquet here.
See you at the ballpark!
Related posts