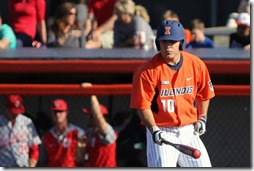 The Illini baseball team are adding to its coaching staff.  Joining head coach Dan Hartleb, assistant coaches Drew Dickinson and Adam Christ and volunteer coach Kyle Hudson is a familiar face.  Michael Hurwitz who has spent much of the last five years playing second base for Illinois will be the new student assistant coach. 
Hurwitz will be focusing his talents on coaching the Illini middle infielders while attending graduate school.  Both second base and shortstop positions have been left vacant since last year.  Hurwitz himself graduated and shortstop Adam Walton is now playing in the minor leagues.  There is a lot of talent there but it will need to honed. Hurwitz will have plenty to work with. 
Hurwitz has been one of the hardest working players in recent memory.  After a productive junior season (third in Big Ten in walks and 11th in OBP), he red-shirted during the 2015 season due to injury.  He rehabbed and came back to have one of his best years.  He started the home season out hot with a 15-game hitting streak. By year's end, he led the team in runs (32) and walks (27).
Maybe it's me but throughout his career, Mike always seemed to come through with the clutch double.
A good choice by the Illini coaching staff.  I think the team will benefit from his presence.  Mike, I'm glad you're staying a little longer!
Related posts