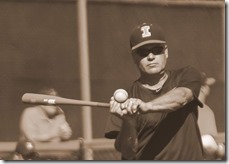 I know Dan Hartleb has always placed a high priority on academics during his reign as head coach of the Illinois baseball team.  According to data released by the NCAA today, it can be shown that this isn't all talk. 
Illinois baseball is one of seven Illini athletic programs that can boast a 100% Graduation Success Rate (GSR).  The other U of I programs are men's golf, women's basketball, women's gymnastics, soccer, women's swimming and diving and women's tennis.  The data is based on the 2006-2009 cohort, ending with freshman that began at the University of Illinois in 2009-10.
Further, Illini baseball graduation rate of 100% is the first since the report began in 1998. That perfect rate is one of only 13 in Division I baseball and the only baseball program in Big Ten Conference batting a 1.000. 
This achievement by the Illinois baseball program is only accentuated by the fact that many of the players were majoring in engineering, business and the sciences.  Keep up the good work Coach Hartleb and congrats to the Illinois baseball program!
Related posts