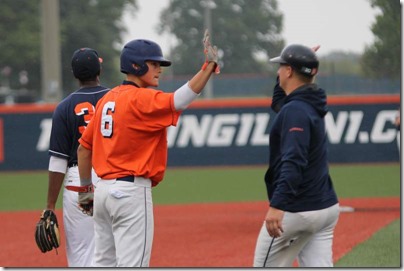 After a fall's worth a practice and a couple of scrimmages, the Orange and Blue World Series took place this week.  This is probably the 12th one I've attended and I don't think I've seen a more one-sided victory by one of the teams.  The Orange Team swept the Blue Team three games.  To add insult to injury, they also won both of the scrimmages earlier in the fall. 
A quick recap of the games: 
Game 1- Monday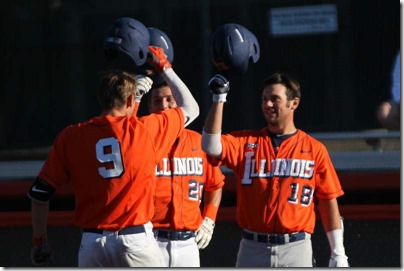 A real blowout by the Orange Team.  You could have called it the Bren Spillane show.  The lanky Wheeling freshman banged out three homers in the game.  His last in the fourth inning capped back-to-back-back homers against the Blue Team.  Doran Turchin and Michael Massey also got into that action. 
Orange Team 16  Blue 0
Game 2- Friday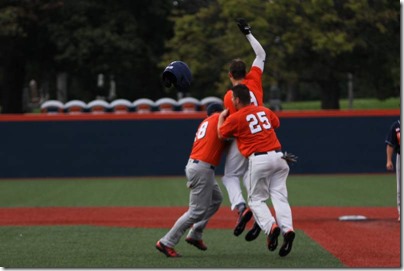 A rainy afternoon at Illinois Field but it was the game to watch.  Pitching was on for both teams and it was 2-2 at the end of 8 1/2 innings.  It was Bren Spillane again who brought the stick for the Orange Team.  He drove home the winning run with a walk-off hit.  He and shortstop Tyler Engel were the only players with more than one hit. 
Luke Shilling (5 IP, 5 K) and Joey Gerber (2 IP, 3 K) pitched a solid game for the Orange Team. 
I will say that there was no doubt how serious these guys take this competition when the Orange Team clinched this series. True victory in their eyes. 
Orange Team 3 Blue Team 2
Game 3- Saturday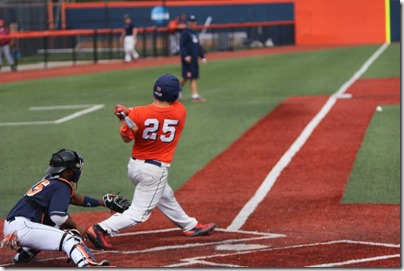 Today, it was a rainy morning but the baseball gods brought the sun out eventually.  The Orange Team must have found their game plan from Game 1 and used that.  Not only did they score nine runs early but they kept the Blue Team hitless for five innings.  Michael Massey doubled twice and drove home four runs while Mark Skonieczny banged a single and a double while driving home three. 
The Blue Team did eventually score twice on six hits, including two by Jalin McMillan. 
Orange Team 9 Blue Team 2 
While it is true Massey, Spillane, and Skonieczny got their share of the headlines, let's not ignore the pitching effort.  The Orange Team hurlers did fantastic, allowing just four runs in three games.  Those pitchers mostly include Luke Shilling, Joey Gerber, Zack Jones, and Sean Leland. 
Enjoy your victory now, Orange Team.  From now on, you and the Blue Team will be as one.  We've seen the best that the best that the both of you had to offer.  Yes, you won the Orange and Blue World Series but that is just three games and you both have a whole season ahead of you. 
Related posts