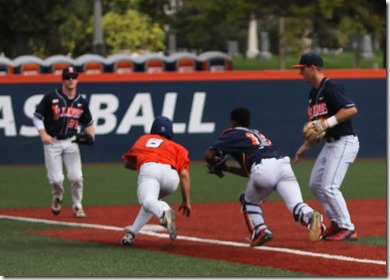 Saturday was another repeat from last weekend.  We had rain early in the morning but by the time the Illinois baseball players were scheduled to square off in their intrasquad matchup at 10:40am, it was nice and sunny and perfect baseball weather.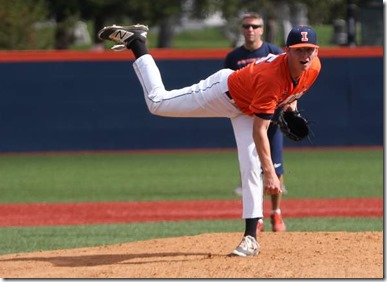 It was a repeat in other ways too.  The Orange Team won again.  This time it wasn't a comeback win like last time.  Behind some good pitching, they won 4-0 over the Blue Team.  Credit freshman Ryan Thompson (above) and sophomore Louisville transfer Sean Leland with getting the job done on the mound. 
Another new guy, freshman infielder Michael Massey seemed to be in the thick of things all game.  He drove home a run early in the game with a base hit then advanced on the throw home.  He later scored that inning.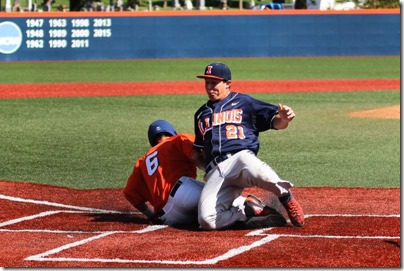 Just to show that even during these exhibition games, the players are going all out.  Massey also scored from third on a ball that got away from catcher David Craan.  As you can see above, pitcher Zak Devermann who was attempting to make the play on Massey and both players were playing for keeps. 
I saw a familiar face at the game Saturday.  Former Illini and draftee Jason Goldstein (left) was sitting near the dugout for most of the game. 
I was speaking the Anthony Drago's father Tony on Saturday.  According to him, the guys are really enjoying these scrimmages.  Practices are one thing but playing head-to-head give them more in-game experiences and quite frankly, are more fun for them. 
I agree!  They're fun to watch too. Keep 'em coming!
More photos from Saturday here.
Related posts