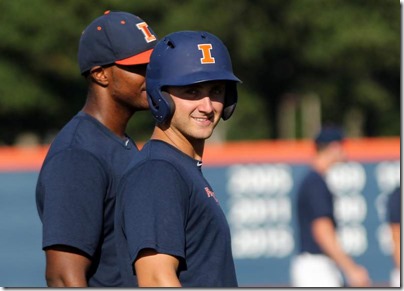 Big news, everyone!  This Saturday (September 10th) at 10:40am, the Illinois Baseball team will host an intrasquad scrimmage game.  The guys have been out at Illinois Field working on their fundamentals and a little friendly competition is probably in order. 
Gates will open at 9am if you want to enter and watch some batting practice.  Entrance will be at the gates on left field side and admission is free.  Beware, parking may be tricky due to Saturday night's Illinois football game.  Also note, restroom facilities will be limited to portable toilets.. just sayin'. 
Don't forget, the new roster just came out a few days ago if you want to print one out to learn the new guys.
2017 schedule released
In other news, the 2017 schedule for Illinois Baseball was announced yesterday.  The biggest highlight??  Illinois will test their mettle against the defending champion, Coastal Carolina on the weekend of March 10-12. 
The regular season begins on February 17th against Milwaukee in Beaumont, Texas.  Illinois fans will have to wait almost a month to see the boys at Illinois Field.  The home opener is on March 14th against the Huskies of Northern Illinois. That starts a homestretch of ten games in fifteen days. 
Illinois Field will also host the Illini's Big Ten Baseball opener versus Michigan State on March 24th.  The Illini will host four home series against Big Ten teams (Michigan State, Northwestern, Maryland and Iowa).  They will also travel for four more (Michigan, Purdue, Minnesota and Rutgers). 
See you at the ballpark Saturday!
Related posts