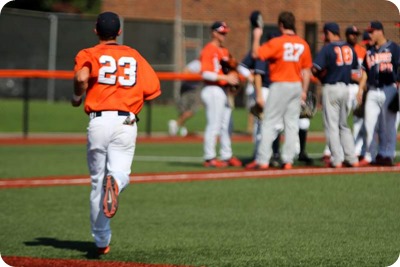 From the looks of it, the guys have been having fun with the intrasquad scrimmages the past two Saturdays.  But check it out!  Scrimmages are just scrimmages but next week, the real Orange and Blue World Series takes place.  Then, things are going down. 
Three games are scheduled next week.  According to FightingIllini.com, the dates are…
Orange & Blue World Series Schedule
Game 1 – Monday, Sept. 26 at 4 p.m.
Game 2 – Friday, Sept. 30 (Time TBA)
Game 3 – Saturday, Oct. 1 at 10:30 a.m.
Admission is free.  Of course, keep an eye on @IlliniBaseball on Twitter for any last minute scheduling changes. 
Spread the word and and get out to Illinois Field!
Related posts