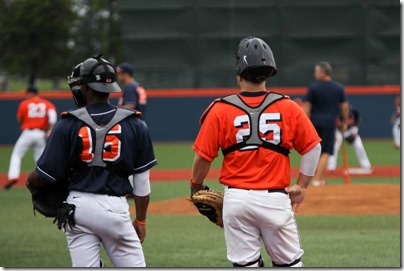 This Saturday, they'll be at it again.  After having so much fun last weekend, Illinois baseball's Orange Team and Blue Team will battle it out this coming Saturday during another open scrimmage at Illinois Field. 
What:  Open scrimmage
Where:  Illinois Field
When:  September 17 at 10:40am (gates open at 9:00am for batting practice)
Cost:  Free!
Sure, it's a friendly intrasquad game but deep down, I'll bet the Blue Team will be looking for some payback after the Orange Team came back to win 7-5 last Saturday. 
The scrimmage is part of the Illinois baseball fall practice and occurs prior to the Illini football game against Western Michigan at 3pm (so keep parking in mind!).  For those of you tailgating, stop on by Illinois Field!
Related posts