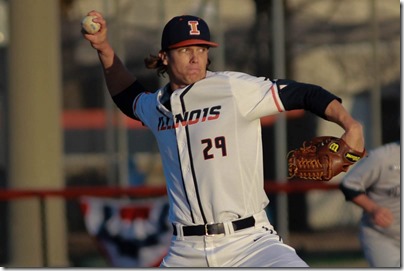 Two days shy of the 2016 MLB Draft, Cody Sedlock received some more good news.  The junior right-hander was named to the All-America first team by Baseball America.  Sedlock becomes only the 14th player in Illinois history to be named a first team All-American and only the second right handed pitcher (Jason Anderson was the first).
Baseball America's All-America teams of 2016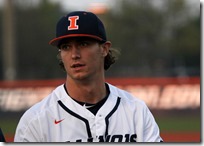 Illinois can boast two All-America first team selections in the past year,  though.  Lefty Tyler Jay was named just last year.  The last time two players in Orange and Blue were All-American in two years was in 1947-1948. 
With the MLB Draft starting on Thursday, Cody Sedlock's stock keeps rising.  The latest mock draft by CBS predicts him being chosen 23rd, if that means anything.  Anything can happen though. 
The MLB Draft begins 6pm CT on June 9 and will continue through June 11.  I'm not going to jinx anybody but I'm pretty positive that Cody Sedlock won't be the only Illinois player's name we will hear called.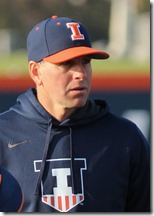 One person who his no doubt happy about Sedlock's situation is Illinois pitching coach Drew Dickinson (left).  With the successes of Sedlock and Tyler Jay, people are noticing Dickinson now. 
After his fifth season at Illinois, he has now been chosen by Team USA to coach at the USA Tournament of Stars.  Dickinson will debut on June 21-26 down in the USA Baseball National Training Complex in Cary, North Carolina.  He will be the pitching coach for Team United. 
Good luck to Drew!!
Related posts