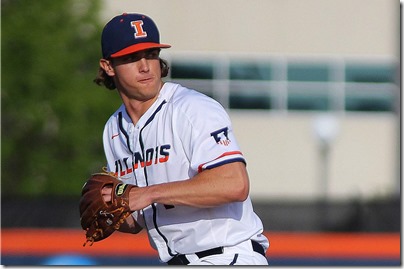 Cody Sedlock: another first round draft choice from the Illini
The Illinois baseball program had some big shoes to fill after last year's draft.  A total of nine players were drafted from the 2015 team which won the Big Ten championship and went on to the Super Regionals. 
That said, the 2016 Illini team held their own.  This year, four Illini were drafted.  Three pitchers and one position player will go on to play ball in the minors.  Highly touted Cody Sedlock was drafted with the 27th pick, the second year in a row an Illini was chosen in the first round (Tyler Jay was picked in round one in 2015).  Also worth mentioning, the Illini have five top ten picks in the last two years, a new record. 
Here are the Illinois baseball draftees of 2016… 
Cody Sedlock – RHP

Baltimore Orioles
1st round – 27th pick

The wait is over for Cody Sedlock and I have to say the pundits were pretty spot on with their predictions.  In mock drafts, most had Sedlock drafted somewhere between the #25th and the #30th pick. 
Cody brings a lot of speed to the mound as well as endurance.  I've watched his pitch speeds throughout the games this year.  Even into the 8th and 9th innings, he consistently kept his velocity of his fastball in the 90s.  The Orioles got a good one. 
Jason Goldstein – C

Seattle Mariners
9th round – 267th pick

Jason Goldstein improved his draft presence by eight rounds from last year.  The Mariners are getting an all-around solid catcher with star potential.  The durable Goldstein can hit well especially in the clutch.  He is smart behind the plate and  can handle pitchers well and will be a positive influence in the dugout. 
Most importantly, he has been a part of a winning team and knows what to do to get to the next level.   
Nick Blackburn – RHP

Arizona Diamondbacks
16th round – 479th pick

Like Goldstein, reliever Nick Blackburn improved his draft position from last year.  As their save guy, Blackburn was a key element of the 2015 Illini team which went to the Super Regional.  Coach Hartleb continued to call on him to close out games for Illinois in his senior year.  As a result, he racked up 11 saves, third in team history.  
J.D. Nielsen – LHP

Los Angeles Angels
34th round – 1026th pick

I admit when I saw his name come up in MLB's Draft Tracker, I did a double take.  It was listed as "Justin" Nielsen.  In all the years he's been here, I've known him as "J.D."
Regardless what you call him, J.D. Nielsen has been one of my favorite pitchers to watch on the mound.  He's a 6'6" lefty with a unorthodox sidearm delivery which baffles the opposing batters.  Coach Hartleb was never shy about using Nielsen.  He left the Illini with 79 career appearances which is third best in team history. 
Congratulations to all of the Illini draftees!
Related posts