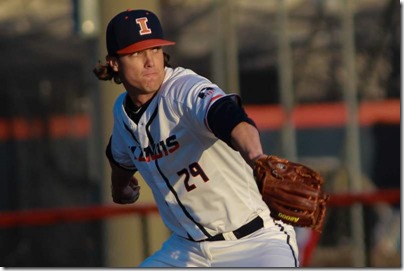 It shouldn't be any surprise to any Illini fan.  Starter Cody Sedlock has been chosen as the Big Ten Pitcher of Year.  He becomes the second Illini in as many years to garner the award after Tyler Jay earned it in 2015. 
Sedlock was efficient.  He had a conference ERA of 1.67 and an opposing batting average of .188.  Sedlock was durable.  In his last five starts, he lasted at least nine innings.  He was the nation's only pitcher to last into the extra innings.  But most of all, Sedlock was intimidating.  His 116 strikeouts leads the Big Ten and broke the Illinois school record.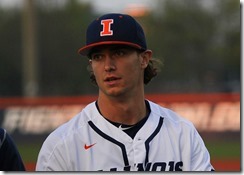 Junior Cody Sedlock received national attention on April 22nd when he pitched 10 2/3 shutout innings against Ohio State and struck out 14 batters.  Sedlock didn't get the win but the baseball writers across the country noticed.  Since then, all eyes have been on him and he has responded brilliantly.  Sedlock allowed six earned runs in 34 innings pitched since that game. 
The season numbers on Sedlock:
W-L: 5-3, IP:  101 1/3, H: 80, ER: 28, BB: 31, K: 116
Sedlock was also unanimously named All-Big Ten First team.  While he just finished his junior year, no one is under any illusion that he will be returning.  In fact, some mock drafts show Sedlock will be going as high as the #32 overall pick in the MLB Draft on June 9-11. 
But that's not all…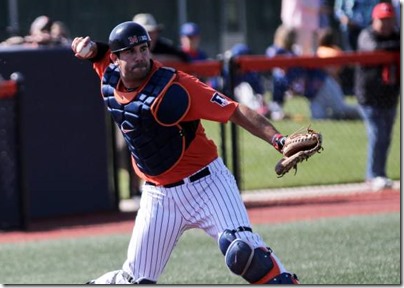 On the 2016 All-Big Ten Third team is catcher Jason Goldstein.  As a former catcher himself, Coach Hartleb has always put a big emphasis on the position of catcher.  Goldstein is no exception.  He has the rare combination of defensive skills, prowess with the bat and leadership in the dugout. 
Goldstein led the team in hitting for almost the whole season.  He ended up with a .312 batting average.  Hitting in the middle of the order, Goldstein was Hartleb's go-to guy for driving in runs.  He led the Illini with 28 rbis.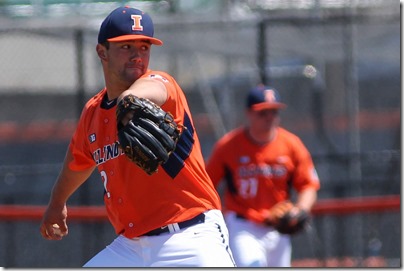 Cole Bellair was chosen for the 2016 All-Big Ten Freshman team.  After several successful outings from the bullpen, Bellair was called on by Coach Hartleb to be the Sunday starter.  Cole responded well though sometimes he didn't always get offensive support he deserved.  He ended the season with a 3.34 ERA, fourth on the team.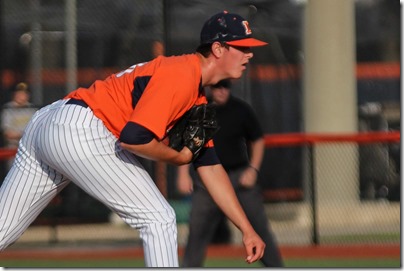 Senior reliever J.D. Nielsen was nominated as the Illinois Sportsman Award honoree.  At 5-1 with a 3.60 ERA (and a quite unorthodox delivery), the Winterset, Iowa native was a reliable option out of the bullpen when games were close.  Nielsen finished his career with 79 appearances for the Illini.  That ranks him a cool third all-time among all Illinois pitchers.
Congratulations to Cody, Jason, Cole, and J.D.!! 
Related posts