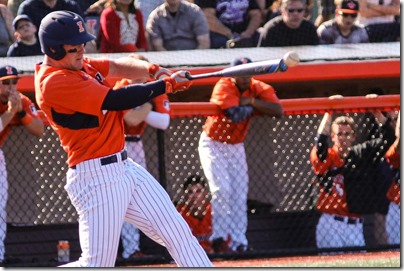 Pat McInerney leads the Illini with six homers
It's down to the last three games.  With a home series against Michigan (34-17, 12-8 Big Ten), ninth-place Illinois (26-22, 10-11 Big Ten) needs to make up at least one spot in the standings in order to obtain a bid to participate in the Big Ten Tournament which starts next week.
Sounds easy?  Let's take a look.
Out of the thirteen teams in the Big Ten, six already know what they're doing next week.  Northwestern and Purdue are already out of contention.  Minnesota, Indiana, Ohio State and Nebraska have clinched and no matter how they perform, they will be going to Omaha.
Seven teams are left in contention for the remaining four spots.  They are Michigan, Michigan State, Maryland, Penn State, Illinois, Iowa, Rutgers.  FightingIllini.com has worked out all the scenarios (and they are plenty) so we don't have to.
If you're confused…https://t.co/rukLoTEatF | #Illini pic.twitter.com/oEMHKPFMaS

— Illini Baseball (@IlliniBaseball) May 17, 2016

It goes without saying that winning is better than losing but it's worth repeating.  Winning two games this weekend certainly won't be a sure thing (see the graphic above) but it is a whole lot better than just one.  
I'm sure the players are doing their best to ignore the standings and just trying to concentrate on Thursday's game.  There is a reason for the cliché, "Taking it one game at a time". 
Illini players to keep an "I" on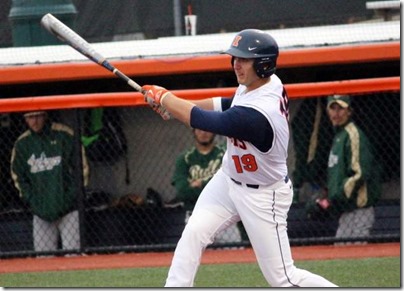 New single season strikeout record holder Cody Sedlock (109 Ks!).

Dan Rowbottom (above) who is currently the 10th toughest hitter in the nation to strike out.  Only 8 Ks in 150 at-bats!

All of the graduating Illini seniors!  Congrats to all of you!
Fighting Illini weekend preview
Pitcher probables
Coach Hartleb is sticking with Andrew Mamlic this series.  He'll be on the mound for Saturday's game.  Thursday starter Cody Sedlock will try to add more to his record-breaking 109 strikeouts. 
Thursday  Cody Sedlock: 2.63 ERA
Saturday  Doug Hayes: 6-5, 3.12 ERA
Sunday  Andrew Mamlic: 4-7, 3.95 ERA
Don't forget… this weekend starts early.  first game starts on Thursday.  Also, there has been a time change for Saturday's game.  First pitch is at 3:30pm.
Illinois Field

Champaign, Illinois

Thu. May 19

6:00 pm CT

Fri. May 20

6:00 pm CT

Sat. May 21

3:30 pm CT

vs

W-L: 34-17,  12-8 Big 10
My take on Michigan:
Michigan has done well out of the gate.  They won their first five games of the season then added a nine-game winning streak at the beginning of April.  A couple weeks later, they had another seven-game streak.  The good news for the Illini?  Big Blue has lost their last five including a sweep by Ohio State. 
Michigan has won twice as many games as they've lost and they can thank their offense.  They have scored 340 runs with a .310 batting average.  Leading the way is Harrison Wenson with his 7 homeruns and 54 rbis and Cody Bruder who is hitting  .382 for the season. 
Quick take:  Time for our offense to feast on their lefty pitching. 
Random Ramblings
Interesting stat here.  In Cody Sedlock's last seven starts, Illinois is 5-2 however he has only been awarded one of those wins.  Sedlock has been phenomenal in this stretch but the offense hasn't always been there.  The relief staff have picked up the wins in the other games, two of them in extra innings. 
One hitter who HAS been there is Pat McInerney.  He now leads the team with six homers.  Not only that but some of his dingers have been long bombs.  Like this one against Indiana last weekend. 
.@pat_mac27 . Bell misses with a fastball over the plate and McInerney crushed it. https://t.co/TKhe04rFkn

T2 | Ind. 3, #Illini 1
— Illini Baseball (@IlliniBaseball) May 15, 2016
Need a couple more this weekend, Pat.
Fan Overview
C-U fans, get out to the park!  Lots of baseball fun!  The last set of baseball cards will be given away on Thursday.  A coozie giveaway on Friday!  They will be doing a Spring Cleaning then too, giving away promotional items from years past (that sounds fun to me!).
Finally, Saturday is Senior Day which is always a special day recognizing all of the outgoing seniors on the team. Sullivan-Parkhill will be giving away Rally towels.  Hope we don't need them!
Live video from FightingIllini.com on Thursday and Friday while BTN live streams it on Saturday.  Dave Loane is your guy at the mike on WDWS AM-1400 and Fighting Illini Sports Network.  There's always @illinoisbaseball on Twitter with the witty updates or the live stats from FightingIllini.com.
Go Illini!!    
Related posts