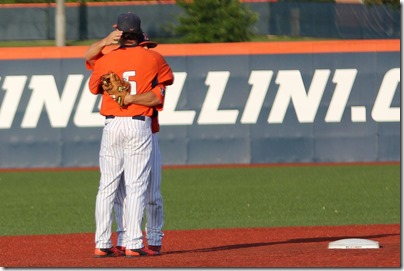 Illinois won their last two games against Michigan but it just wasn't enough.  Going into the last game, their fate was in the hands of Michigan State and the Spartans let them down.  As a result, Illinois will not be going to the Big Ten Baseball Tournament next week.  This will be only the third time that Coach Hartleb will not be advancing to the tournament in his eleven-year tenure. 
Iowa snuck into the Tournament as the 8th seed.  They will be joining Minnesota, Nebraska, Indiana, Ohio State, Michigan, Maryland and Michigan State in Omaha next Wednesday to begin a new chapter in the 2016 season.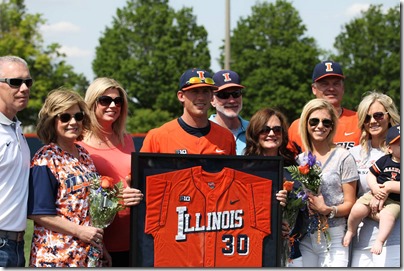 It was Senior Day on Saturday.  As an alum, I know graduating from the University of Illinois is a significant event. Congrats to Nick Blackburn, Jason Goldstein, Michael Hurwitz, Andrew Mamlic, Charlie Naso, and J.D. Nielsen.  Volunteer Coach Kyle Hudson (above with his family) was also recognized for returning and getting his degree. 
The attendance on Saturday's game was a healthy 2,007.  That's pretty good considering the students have gone home after the semester.  In fact, the Illini have just announced that 2016 is the second best year for attendance.  More than 23,000 fans attended games in 2016.  Not too surprisingly, last year's season was record breaking as far as attendance not too mention in other areas as well. 
At this point, it seems a bit superfluous but here are the recaps for the games this past weekend….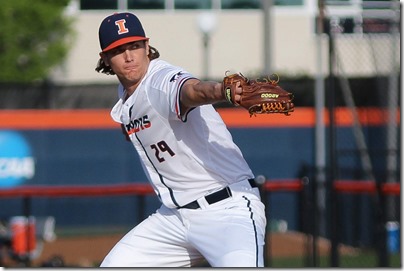 Draft prospect Cody Sedlock pitched what for some could have been a career game on Thursday night.  In a complete game, he gave up just three hits.  Unfortunately, one of those hits was a solo homerun to Johnny Slater, his first of the year.  The Illini offense couldn't get anything going and the 1-0 was the final score. 
Sedlock has pitched nine or more innings for four of the last five games.  That's a stat that the scouts are definitely paying attention. 
 

Friday's rainy game was the mirror opposite of Thursday's. Starter Doug Hayes was uncharacteristically roughed up for seven runs.  By the sixth inning, it was Michigan 7 Illinois 2 and the Illini's chances for the tournament were pretty much in the can.  Then two things happened. 

One, Charlie Naso came on to pitch and shut Michigan's offense down for three key innings.  Two, while he was doing that, Illinois put together two four-run rallies, one in the sixth and one in the eighth.  When all was said and done, Illinois scored a total of nine unanswered runs before Michigan added one meaningless run in the run in the ninth. 

Pat McInerney played a part in both rallies.  with a two-run hit and a solo homer.  Jack Yalowitz drove in two in the eighth inning and ended up going 3 for 3. 

Lest we forget,  Michael Hurwitz helped get things started with a two-run homer in the third inning, HIS first of the season. 

 

You would think that with the momentum of Illinois' win on Friday, the players would have been geared for victory.  However, minutes before the game started, word was received that Maryland had defeated Michigan State eliminating Illinois from the Big Ten Tournament despite the outcome of the game. 

So the game was played just for fun.   And Illinois did just that.  They had fun. 

Senior Andrew Mamlic celebrated his last game on Illinois Field turf by pitching one of his best games of the season.  He gave up just one run on four hits in seven innings while striking out five.  Meanwhile, Pat McInerney continued his hot streak hitting two doubles and two singles.  Both Dan Rowbottom and Anthony Drago (above) racked up two hits including a double. 

 
Random Ramblings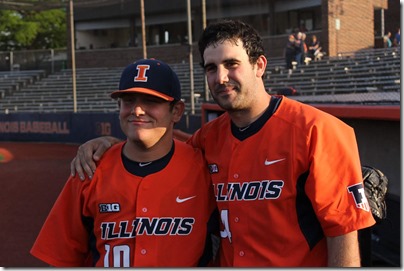 The mood on the field after the game was a little emotional especially for those seniors who would not be returning next season like Michael Hurwitz and Jason Goldstein.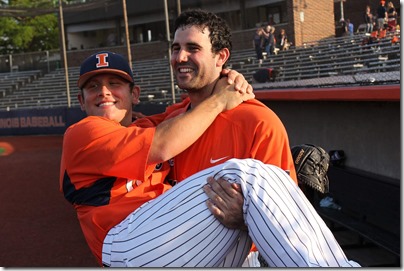 That's not to say some didn't get a little goofy as well.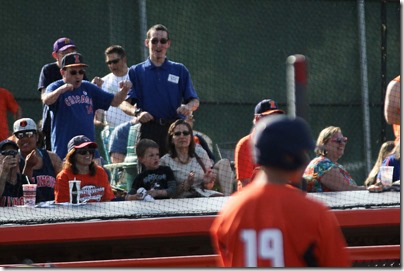 Those of you at Saturday's game may have seen these guys rooting for Dan Rowbottom.  They were wildly pantomiming rowing a boat and shouting "Row, Row, Row!" whenever Dan was up to bat.  It wasn't long before other fans joined in too.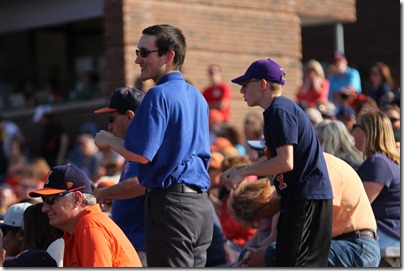 I think this fan participation is awesome. I hope these guys come back next season and start this up.  I spoke to Dan after the game and he was definitely appreciative of support. 
Thanks, Illini!
Related posts