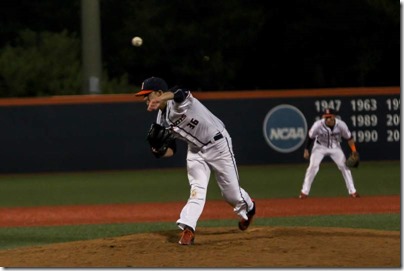 Doug Hayes shuts down the #19 Gophers Friday night
With a 14-6 drubbing by the Minnesota Golden Gophers (27-13, 11-3 Big Ten) on Sunday, Illinois (21-19, 7-8 Big Ten) lost the home series 1-2.  With the series over, Illinois slips to ninth place while Ohio State moves ahead of them again. 
Here are the current Big Ten standings. 
The Illini can thank starter Doug Hayes for mitigating the damage.  He provided the sole win with a shutout on Friday night.  A little credit goes to Trent Hammond who drove in both runs that night.
Major highlights
Doug Hayes pitches his career first shutout on Friday night.

Cody Sedlock moved into Illinois' single season top 10 in strikeouts with 90

Michael Hurwitz extended his hit streak 15 games and still has a 19-game on-base streak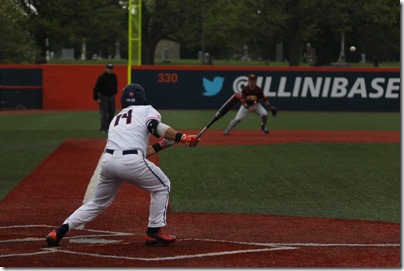 Dan Rowbottom drives in the sole run in Game 1 on Friday
Well, Cody Sedlock didn't pitch 10 innings nor did he strike out 14 batters.  All in all, he didn't pitch badly either though (three runs and six strikeouts in 6 2/3 innings.  However, his performance was not enough as the Illini offense only came through with one run. 
Dan Rowbottom came though with the sole rbi in the fourth inning with a base hit to tie the game 1-1. 
My photos from Friday's first game
 

Trent Hammond drives in two runs Friday night 

What Doug Hayes accomplished during the second game on Friday really can't be understated.  Facing the most powerful team in the Big Ten, he finessed his way to a complete game shutout, spreading eight hits and striking out six batters. 

Hayes had a little help from his friends.  Specifically, Trent Hammond drove in both runs on a bases loaded single in the second inning scoring Dan Rowbottom and Mark Skonieczny.  No one knew it at the time, but those would be the only runs that would score all game. 

My photos from Friday's second game

 

 

Jason Goldstein takes part in the three run rally in the sixth

It wasn't such a great game for Cole Bellair… and pretty much any other pitcher that Coach Hartleb trotted out to the mound.  The Golden Gophers probably had vengeance on their minds thinking about Friday night's shutout and wanted to prove they could hit.  And hit they did.  Minnesota racked up 17 hits and 14 runs on Sunday.  Each of the six Illinois pitchers that appeared in Sunday's game was scored on. 

After Cole Bellair was relieved of duty after two innings and five runs allowed, the Illini offense actually did their best to keep pace with the Gophers.  Illinois even managed to get 12 hits themselves.  Jason Goldstein came up with three safeties while Trent Hammond, Jack Yalowitz, and Doran Turchin all had two.  Turchin contributed three rbis including a rbi hit in the sixth and a solo homer in the ninth. 

Alas, Mike Hurwitz did not get a hit and his hit streak was stopped at 15. 
Random Ramblings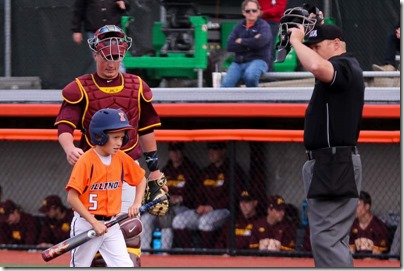 I don't know about you but I think one of the biggest stars at Illinois Field is the new batboy.  I don't know who he is but he sure does his work diligently and seems to love being on the job. 
The players seem to really get along with him and I've even seen him get into conversations with the umps. 
Keep up the good work, kid!
Next up
There are two midweek games this week.  Illinois travels to Sauget, Illinois to play Missouri on Tuesday.  First pitch is at 6pm.  On Wednesday, Southern Illinois visits Illinois Field for an afternoon game at 3:30pm. 
Go Illini!
Related posts