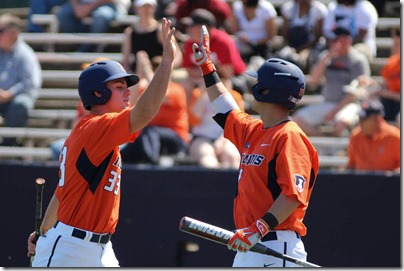 Trent Hammond gets a high five as he scores on Sunday
Wow!  What a beautiful sunny weekend!  It was perfect weather for baseball all three days and Illinois took advantage by sweeping the Saint Louis Billikens all three games.  With the sweep. Illinois now puts themselves above .500 with a 17-16 record. 
Major highlights
Trent Hammond goes 6 for 10 with 7 rbis for the weekend

Cole Bellair earns his first college win on Sunday

Michael Hurwitz extends his hit streak to nine games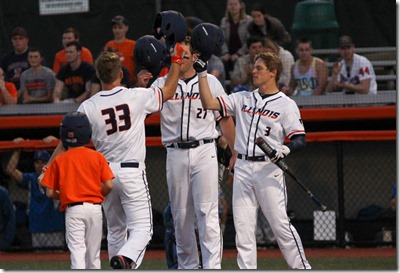 Trent Hammond is welcomed at home after his homerun in the fifth inning
I've watched enough college baseball to know it is a real team sport.  But it wouldn't be an overstatement to say that Friday night belonged to third baseman Trent Hammond. 
Down 4-0, Hammond got things going with a two-run homer in the fifth inning.  He wasn't finished. Later in the eighth inning, Hammond drove in the winning run with a two-run single.  Illinois came back to win the game 6-4. 
Hammond finished the game 2 for 3 with four rbis and a homer to go along with his exemplary defense. 
Reliever J.D. Nielsen (3-1) got the win and Nick Blackburn notched the save, his seventh. 
 

 

It was another beautiful day on Saturday and another win for the Illini.  And guess what?  Trent Hammond was still on fire.  He went 2 for 3 with two rbis.  Pat McInerney got things going with a solo blast in the fourth inning. 

Home run, @pat_mac27. There's not a park in America that would keep this one in play.

B4 | #Illini 2, SLU 0 pic.twitter.com/XgK7ADWrA1

— Illini Baseball (@IlliniBaseball) April 16, 2016

Boom! 

Doug Hayes earned his team-leading fifth win while J.D. Nielsen earned the save. 

 

 

First career win for Cole Bellair

Another gorgeous day in Champaign and Illinois didn't let it go to waste.  Jason Goldstein collected three hits while Adam Walton and yes, Trent Hammond,  both got two safeties.  Michael Hurwitz banged a base hit too which increased his hit streak to nine games. 

The big news of the game though was that Cole Bellair (1-2) finally earned his first win.  Bellair, a previous victim of a few no-decisions, notched his victory on two runs in 6 1/3 innings with six strikeouts.  Chuck Naso got the Illini out of a tough jam in the seventh.  J.D. Nielsen made his third appearance in as many games.  Nick Blackburn pitched a scoreless ninth to get his eighth save. 
Random Ramblings
A couple of fun photos of SLU fielding from Sunday.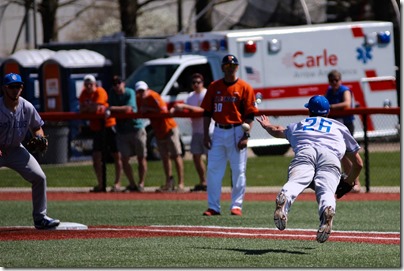 Some fancy glovework…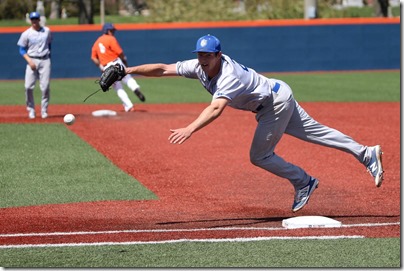 …and not so much. 
For the weekend, Trent Hammond was 6 for 10 with seven rbis.  What the stats don't necessarily tell you is that #33 is playing some great defense at the hot corner.  That's something which complements the team immensely and is needed on a team so young. 
Hammond's batting average went up 40 points in three days and I was hoping we might see his name on the Big Ten's weekly award list today but alas, it was not the case.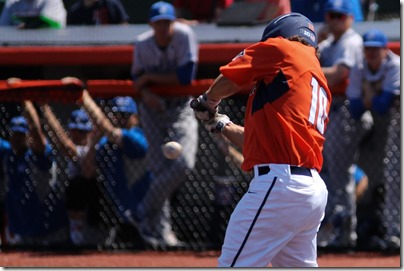 Hot hitting second baseman Mike Hurwitz slaps a hit on Sunday
Speaking of hot hitters, April 2 is the only gameday this month that Mike Hurwitz has NOT gotten a hit.  He came into April with a .197 average and he's now hitting a cool .304.  Michael Hurwitz is 5'8" so he can easily coax a walk since his strikeout zone is small.  Hurwitz obviously isn't relying on that though and that only helps the team. 
Finally, nice going Illini fans!  Over 4000 fans showed up for the three games this weekend.  In fact, the 4.529 recorded attendance for all three days set a weekend record for a non-conference series. 
Next up
This Tuesday, Illinois plays a rematch against Eastern Illinois and their coach, former Illini Jason Anderson.  First pitch in Mattoon is at 6pm. 
This coming weekend, Illinois will try to extend their winning streak against Ohio State.  The conference series begins on Friday at 6pm. 
Go Illini!
Related posts