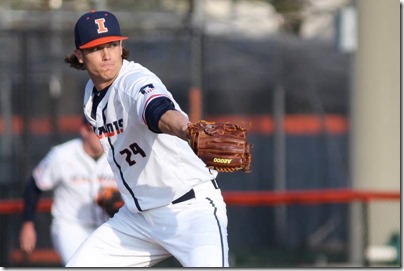 Cody Sedlock lets one go during last Friday's game
Coming off a big 2-1 series win off Ohio State, Illinois (20-17, 6-6 Big Ten) hosts the Minnesota Golden Gophers (25-12, 9-2 Big Ten) for three games at Illinois Field.  Both teams have done well lately winning eight of their last ten games.  Minnesota is currently in first place in the Big Ten standings and is ranked #19 nationally.  On the other hand, Illinois is climbing in the standings.  After their series win last weekend, they are currently in eighth place with a 6-6 conference record. 
Note: Due to impending weather, there has been a schedule change.  There will be a doubleheader on Friday starting at 4pm.  More details here. 
Illini players to keep an "I" on
NCWBA Pitcher of the Week Cody Sedlock coming off his historic performance last Friday

Michael Hurwitz has extended his hitting streak to 13 games

Jason Goldstein is now 13th in the Big Ten with a .342 batting average
Fighting Illini weekend preview
Pitcher probables:  Lots of eyes will be on National College Pitcher of the Week Cody Sedlock this Friday.  Just relax and pitch a solid game for the win, Cody.  No need to go into extras!  Doug Hayes will try to rebound for a W in the second game on Friday.  Cole Bellair will try to win his third game in as many weeks. 
Friday  Cody Sedlock: 4-1, 2.94 ERA
Friday Game 2  Doug Hayes 5-3, 3.36 ERA
Saturday  Cole Bellair: 2-2, 2.79 ERA
Illinois Field

Champaign, Illinois

Fri. April 29

4:00 pm CT

8:00 pm CT

Sat. April 30

TBA 

vs

W-L: 25-12,  9-2 Big 10
My take on the Golden Gophers:
Funny thing about the Gophers… they are ranked #19 in the nation and first in the Big Ten standings yet their overall record of 25-12 isn't much different than the Ohio State Buckeyes.  Yes, the same Buckeyes who we went 2-1 against last weekend.  Further, Minnesota and Illinois are both 8-2 in their last 10 games. 
That said, the Golden Gophers can hit well.  They have a .324 team batting average led by Austin Athmann's .396 mark.  Minnesota's pitching (3.89 ERA) is on par with Illinois' (3.68 ERA)  though our starters definitely  have the edge. 
Minnesota's third starter Toby Anderson is 5-0 with a 3.74 ERA.  Be nice to give him his first loss. 
Quick take:  Don't give them anything east to hit and let's score as early as we can. 
Minnesota's weekend preview against the Illini
Random Ramblings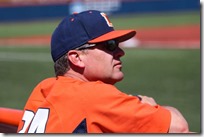 It wasn't long after Cody Sedlock's Friday night performance when believe it or not, there were those detractors on social media.  One in particular is ESPN's Keith Law who tweeted, "Legit first round prospect getting overused as we speak".  I'm not going to link to Law's tweet.  He doesn't need the attention.  You can read about it at the News Gazette though
Now Keith Law is no stranger to controversy and it isn't the first time he's questioned Hartleb's coaching strategy.  Last year, he took Coach Hartleb to task about his use of Tyler Jay.   
Well, things turned out pretty well so far for Tyler Jay who was drafted in the first round in 2015.  As for Cody Sedlock, his 10 2/3 inning shutout performance garnered enough attention to be awarded the National College Baseball Writers Associations' National Pitcher of the Week. 
Mr. Law, maybe it's time to get back to beat writing. 
Fan Overview
The schedule change is worth mentioning again.  Due to the weather, there will be two games on Friday night starting at 4pm.  Keep an eye on @IllinoisBaseball or the Illinois Baseball website for potential schedule announcements for the third game. 
The Big Ten Network will be out in full force to broadcast the 8pm game so expect some extra hoopla.  FightingIllini.com will be broadcasting the 4pm game.  Dave Loane and his voice of gold will be at the mike this weekend.  You can hear him broadcast on live audio or on the AM-1400 WDWS airwaves. 
Go Illini!!    
Related posts