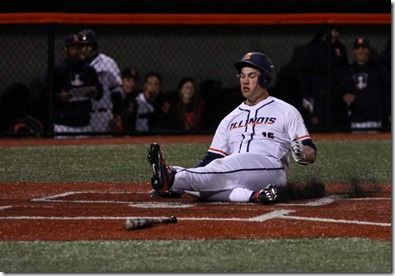 Luke Shilling slides into home during Illinois' 5th inning rally against EIU Tuesday
For the second weekend in a row, Illinois (12-14, 3-3 Big Ten) will be traveling for a Big Ten series.  This weekend, they will be playing in Iowa City to take on the Iowa Hawkeyes (12-14, 3-3 Big Ten) for a three game set. 
Both Illinois and Iowa are tied at 3-3 in the Big Ten baseball standings.  They currently are smack dab in the middle of the conference race at seventh place.  Both teams are looking to gain on Minnesota and Ohio State who are 1-2. 
Fighting Illini weekend preview
Cole Bellair's ERA is now at a mortal (but still fantastic) 2.48 level.  Still hard to believe he doesn't have a win to go with it.  He'll be pitching on Sunday to try to change that. 
Friday  Cody Sedlock: 4-1, 3.50 ERA
Saturday  Doug Hayes 3-2, 3.14 ERA
Sunday  Cole Bellair: 0-1, 2.48 ERA
Banks Field

Iowa City, Iowa

Fri. April 8

4:05 pm CT

Sat. April 9

2:05 pm CT

Sun. April 10

1:05 pm CT 

vs

W-L: 12-14,  3-3 Big Ten
My take on the Hawkeyes:
The Hawkeyes come into the weekend with the exact same record as the Illini.  They both have a 12-14 overall record and a 3-3 Big Ten mark.  While 3-3 may not sound too impressive, the Hawkeyes went 2-1 against the powerful Terps of Maryland. 
Iowa has a .261 batting average but they out-homer their opponents by a 17-13 margin.  Look out for starting pitcher C.J. Eldred (2.51 ERA).  He takes after dad Cal Eldred who is a former Iowa alum and pitched 13 years in the Major Leagues.
Iowa Hawkeyes Game Notes vs. Illinois
Quick take:  If Cody Sedlock is on his game Friday night, this weekend is a good chance for Illinois to gain some ground in the Big Ten.
Random Ramblings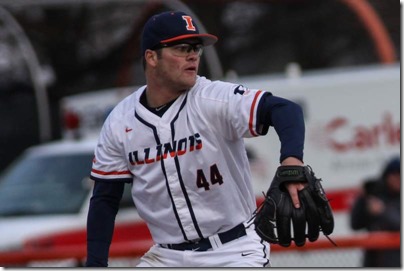 We got a look at Quinten Sefcik on the mound on Tuesday
Illinois gained a bit of confidence in a 9-7 win over Eastern Illinois on Tuesday night.  The Illini rallied to take a 9-2 lead thanks to a homer by Jason Goldstein and later, rbi hits by Pat McInerney, Goldstein again, and Luke Shilling. 
Kudos to Illini alum Jason Anderson who now coaches the Eastern Panthers.  EIU made it a game worth watching.  The Panthers scored five unanswered runs to make it a close one.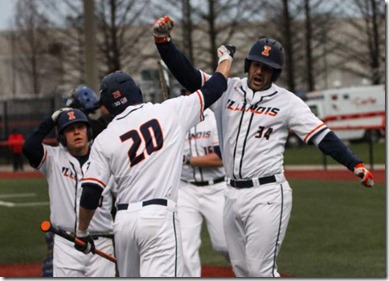 Doran Turchin (20) greets Goldstein at home plate after his homer in the 3rd inning
As is usual for midweek games, Coach Hartleb brought in new guys to pitch.  This was the first time I saw Quinten Sefcik on mound as well as Jack Yalowitz and Joey Gerber.  After a rough first inning, Sefcik settled down and Yalowitz earned his first win of his college career. 
Fighting Illini Game Notes for Tuesday
I took some photos on Tuesday.  Here they are on the IBR photo gallery.
Fan Overview
Dave Loane will be at the mike this weekend.  You can hear him broadcast on live audio or on the AM-1400 WDWS airwaves.  Live video is also available for the Friday and Sunday games via BTN Plus.  And as always, you can always follow live stats via the web thanks to hawkeyesports.com. 
Go Illini!!    
Related posts