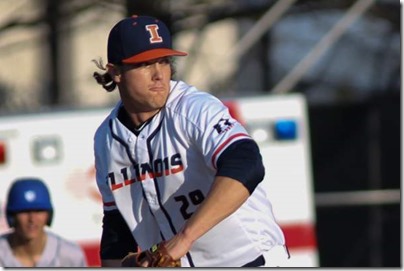 Cody Sedlock leads the B1G with 70 strikeouts
After five straight non-conference wins, Illinois (18-16, 4-5 Big Ten) is ready to bring on the Big Ten conference again.  This weekend, they will host rival Ohio State Buckeyes (24-18-1, 4-5 Big Ten) at Illinois Field.  Both teams come into the weekend with a 4-5 conference record and in ninth place in the Big Ten so the series has implications as the regulation schedule end is within sight.
Illinois Baseball has a host of promotions set up for this weekend including Friday's Bleacher Bum BBQ. 
Illini players to keep an "I" on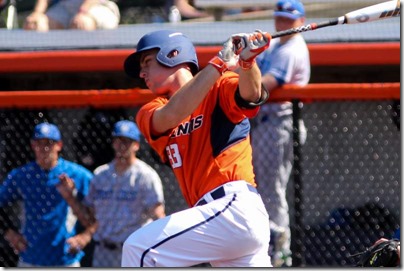 Michael Hurwitz is currently riding a 10-game hitting streak

Cody Sedlock leads the Big Ten in strikeouts with 70

Trent Hammond (above) has gone 7 for 12 with 8 rbis in his last four games
Fighting Illini weekend preview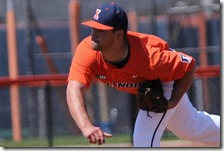 Pitcher probables:  Doug Hayes now leads the team with five wins!!  Cole Bellair (right) has the pressure of getting his first win taken off. 
Cody Sedlock will try to match Hayes' win total. 
Friday  Cody Sedlock: 4-1, 3.49 ERA
Saturday  Doug Hayes 5-2, 3.25 ERA
Sunday  Cole Bellair: 1-2, 3.05 ERA
Illinois Field

Champaign, Illinois

Fri. April 22

6:00 pm CT

Sat. April 23

3:00 pm CT

Sun. April 24

1:00 pm CT 

vs

W-L: 24-12-1,  4-5 Big 10
My take on the Buckeyes:
At 24-12-1, the Buckeyes have fared better than the Illini overall.  Once they hit the Big Ten though, Ohio State hit a road block.  They have an identical 4-5 conference record as Illinois.  A sweep by tough Maryland didn't help their cause. 
As is typical, the Buckeyes have a slugging lineup.  Five players in the lineup have at least five homeruns led by Jacob Bosiokovic who has nine dingers followed by two more Buckeyes (Nick Sergakis and Troy Montgomery) with seven. 
Overall, the Buckeyes have outscored their opponents 230-151 so expect some fireworks. 
Quick take:  Keep the pitches low.  We don't want any balls leaving the park unless they're ours. 
Buckeyes' weekend preview against the Illini
Random Ramblings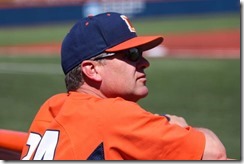 There's lots of stuff happening this weekend at Illinois Field this weekend!  Friday night is the ever-popular Bleacher Bum BBQ.  Show up at 5pm for food and fun!  This annual event has consistently drawn over 3,000 fans over the last seven years so expect a big crowd too. 
Saturday is "As-Seen-on-TV" night. Prizes will be given out!  Collectors, they will be giving away the second set of baseball cards, too.  On Sunday, it is Super Hero Day.  Dress up as your favorite super hero! 
I'm making a prediction.  So far this year, there hasn't been a Big Ten Player of the Week, Pitcher of the Week or Freshman Player of the Week from the Illini.  I predict that after this weekend, that will no longer be the case.  Don't know who but someone will step up. 
Call me on it next Monday. 
Fan Overview
Naturally, you should really get out to Illinois Field for all the fun this weekend if you can.  If you can't make it out, Dave Loane will be at the mike this weekend.  You can hear him broadcast on live audio or on the AM-1400 WDWS airwaves. 
Live video is also available on Friday and Sunday via BTNPlus.  On Saturday, you can see it on FightingIllini.com. for all the games via FightingIllini.com.  As always, you can always follow live stats via the web. 
Go Illini!!    
Related posts