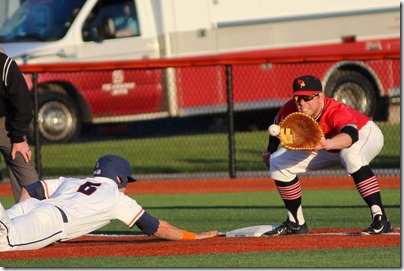 Adam Walton gets back to first base safely in Tuesday's game against ISU
It's the first home series in three weekends for the Illini baseball team.  Illinois (14-16, 4-5 Big Ten) will be playing a non-conference series against the Saint Louis Billikens (16-18, 7-2 Atlantic 10) who now claim first place in the Atlantic 10 conference. 
Fighting Illini weekend preview
Both Cody Sedlock and Doug Hayes will be going for their fifth win this weekend.  Cole Bellair, on the other hand, is still going going for his first win despite having the lowest ERA of the three. 
Friday  Cody Sedlock: 4-1, 3.48 ERA
Saturday  Doug Hayes 4-2, 3.51 ERA
Sunday  Cole Bellair: 0-2, 3.08 ERA
Illinois Field

 

Champaign, Illinois

Fri. April 15

6:00 pm CT

Sat. April 16

3:00 pm CT

Sun. April 17

1:00 pm CT 

vs

W-L: 16-18,  7-2 Atlantic 10
My take on the Billikens:
The Billikens (yes, I looked it up… this is what a Billiken is) are having a strange season.  They lost their first eight games of the year then proceeded to win their next six.  Long story short, they have an overall losing record at 16-18 but are now leading the Atlantic 10 with a 7-2 conference record. 
The Bils' stats measure up with their opponents (.281 BA to .283 and 4.87 ERA to 4.60).  However, they do sport some power.  The Billikens have out homered the opposition by a 33 to 19 margin.  Josh Bunselmeyer leads the way with 10 dingers. 
Illinois has history on its side though.  They have a 24-3-1 record against the Billikens and have won nine of the last ten games versus St. Louis.
SLU weekend preview against the Illini
Quick take:  keep the ball in the park, pitchers!
Random Ramblings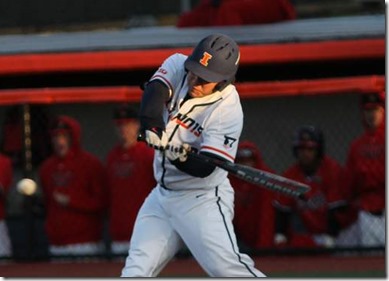 Michael Hurwitz: batting .577 in his last six games
There's no such thing as an easy win but Illinois made it look that way against Illinois State on Tuesday night with a 7-1 win.  Andrew Mamlic pitched six strong innings for the victory.  Jason Goldstein knocked in four runs on three hits while Michael Hurwitz continued his hot hitting with two hits while scoring three. 
Fighting Illini Game Notes for Tuesday's win
Hurwitz has been raking lately.  Not content to just take a walk (as he quite able to do), he has 15 hits in 26 at-bats in the last two weeks while scoring nine runs.  FightingIlllini.com gave him his due this week.  Hurwitz' season batting average hovers just below the .300 mark at .297.
My photos from Tuesday's game. 
Fan Overview
Get out to the games this weekend!  I won't be there Saturday but I'm doing my part by bringing a friend to Friday's game. 
If you can't make it out, Dave Loane will be at the mike this weekend.  You can hear him broadcast on live audio or on the AM-1400 WDWS airwaves.  Live video is also available for all the games via FightingIllini.com.  As always, you can always follow live stats via the web. 
Go Illini!!    
Related posts