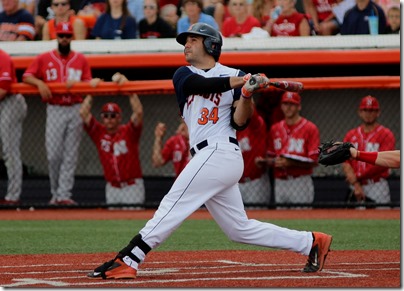 Illinois sees the return of catcher Jason Goldstein this weekend
"There's no place like home", said Dorothy from the Wizard of Oz but I think the Illinois baseball players are probably thinking the same thing.  Illinois (8-10) is looking to start off the Big Ten conference portion of the season in the right way while they host the Penn State Nittany Lions (9-10) at Illinois Field for a three game series.  
Going into the weekend, Illinois is 8-10 and currently in 9th place in the non-conference standings.  It's a whole new ballgame when it comes to the conference season, though.  A different intensity, attitude and approach to the game. And of course, the wins now really count in the standings. 
This is the Nittany Lions' first visit to Champaign since 2013.  The good news is that Illinois has swept Penn State the past three times the two teams have met. 
You want more good news?  Star catcher Jason Goldstein seems to back to play.  Goldy had been riding the pines since he injured his leg two weeks ago against UNC Greensboro.  However, he started as the designated hitter against Illinois State on Tuesday and played the full game.  Will he be ready to don the tools of ignorance on Friday night?  Time will tell.  If not, Mark Skonieczny will be there providing more than adequate backup.
Fighting Illini weekend preview
Here are the starting assignments this weekend.  Cole Bellair is still looking for his first win despite his microscopic 0.46 ERA. 
Friday  Cody Sedlock: 3-1, 3.98 ERA
Saturday  Doug Hayes 2-2, 3.86 ERA
Sunday  Cole Bellair: 0-0, 0.46 ERA
Illinois Field

Champaign, Illinois

Fri. March 25

6:00 pm CT

Sat. March 26

1:00 pm CT

Sat. March 26

3:00 pm CT

(note schedule change)

 

vs

W-L: 9-10
My take Penn State:
Like Illinois, Penn State has had an up and down year.  They are owners of a five-game losing streak yet two three-game winning streaks.  It will be interesting to see which Penn State team will show up this weekend. 
Infielder Jim Haley has supported the offense with a .351 batting average while Willie Burger leads with 16 rbis.  Starter Justin Hagenman has been lights out in five outings with a 1.12 ERA and a 3-1 record.  So far, Jack Anderson (0.93 ERA, 5 saves) has been the Lions' go-to man out of the pen late in the game. 
Summary:  A good chance to win but score early! 
Random Ramblings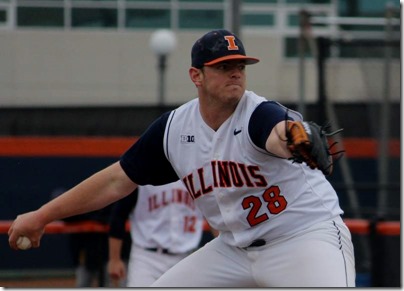 Charlie Naso notches first career win
Illinois got a confidence boost on Tuesday as they defeated Illinois State 8-3.  Matt James made his first career start and held his own.  He struck out six batters in four innings.  The Redbirds did score three runs off of him in the third inning but the Illini offense had his back.  The Illini offense rallied for five runs in the top of the fourth inning on the bats of newbies Jack Yalowitz, Doran Turchin and Trent Hammond. 
And let's give some kudos to Charlie Naso who got his first college win.  He did it in style, pitching three scoreless innings and striking out three.  Nick Blackburn closed out the game hurling two more scoreless frames. 
Nice way to bring us to the Big Ten season, guys! 
Fan Overview
The weather for Friday's opener is looking to be a cool 47 degrees but nice and sunny at game time.  If you come early enough on Friday, you'll get a free pennant! 
You really should come to Illinois Field (and invite some friends!) but if you can't, Dave Loane's smooth voice will grace the AM-1400 WDWS airwaves.  Live video is available and you can always follow on GameTracker, as well. 
See you at the ballpark!!  
Related posts