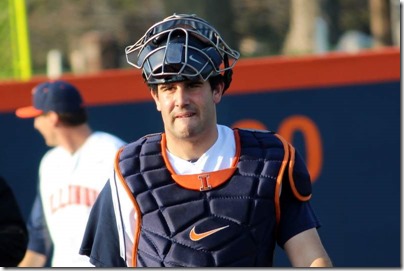 Jason Goldstein is 10 for 24 through two weeks
Illinois displayed a significantly better showing this weekend against weekend against Florida Gulf Coast University in Fort Myers.  At least, the won-loss record looks a lot better.  With two wins to start the weekend and a very close loss on Sunday, Illinois crept back up to .500 with a 3-3 mark. 
Pitching and defense was key as the games were close decided by a combined total of five runs for the three games.
Quick summary of each game
| | | |
| --- | --- | --- |
| Game #4 / February 26, 2016 | | |
| | vs | |
| 4 | | 2 |
Cody Sedlock picked up where he left off last weekend.  He only struck out four but this time he got the big W, his first of the year.  Sedlock gave up just two runs in seven innings while JD Nielsen racked up his first save of 2016. 
Jack Yalowitz got things going with a rbi single in the second inning.  Pat McInerney made up for going hitless in the first weekend by going 2 for 2 with two runs scored.  Big game for freshman CF Doran Turchin too.  He went 3 for 4 and two rbis. 
It was a big day for Sophomore Doug Hayes.  He put in another good performance and like Sedlock, he got the win this time.  Hayes allowed just one run in six innings walking one and striking out four.  Cole Bellair and Nick Blackburn came in relief and got the job done with Blackburn getting his second save of 2016. 
Jason Goldstein and Anthony Drago continue their hot hitting with three hits each.  Matt James added a solo homer in the sixth inning. 
| | | |
| --- | --- | --- |
| Game #6 / February 28, 2016 | | |
| | vs | |
| 3 | | 2 |
Andrew Mamlic lost a tough pitchers' duel on Sunday.  He kept FGCU to one run through five innings.  The sixth inning proved to be key as Illinois pulled ahead 2-1 but the Eagles scored two runs off Mamlic in the bottom of the inning.  Bellair and Nielsen kept the opposition scoreless for the balance of the game but the Illinois offense wasn't able to plate a run. 
Turchin added two more hits to his weekend total while leadoff man Adam Walton walked twice and scored both of Illinois' runs.  
Random Ramblngs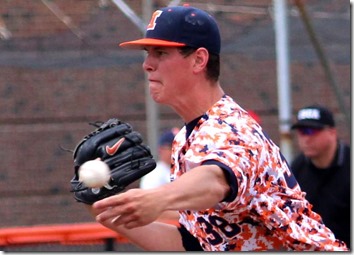 The pitching is still looking very solid.  The three starters, Cody Sedlock, Doug Hayes and Andrew Mamlic, are all new to the full-time starting game.  Through two weekends, they have given up a combined ten runs.  Out of the bullpen, JD Nielsen (above) and Cole Bellair have given up one run in a combined 10 1/3 innings of work. 
Jason Goldstein (10 for 24) and Anthony Drago (7 for 22, 4 doubles) are quick out of the season gate.  CF Doran Turchin (8 for 24, 4 runs) wants to prove to Coach Hartleb that he is a starting outfielder.  Matt James caught fire.  His double and homer were key in two of Illinois' three wins.
Next up
Illinois travels to Deland, Florida for the Stetson Invitational next weekend.  There they will take on Central Michigan, Stetson, and Villanova.  Game time against Central Michigan on Friday is 12:00 noon. 
Related posts