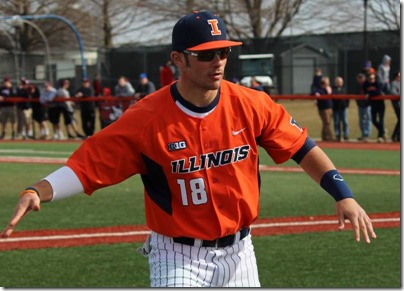 No longer on the sidelines: four doubles for Anthony Drago this weekend
After losing the first two games to #19 Tulane Green Wave in New Orleans, the Fighting Illini baseball team rallied on Sunday for their first victory of the season. 
The opening series of the college season was anticipated by many but no more so than Coach Dan Hartleb, the players and the rest of the coaching staff.  While it took till Sunday for their first victory, I'm sure it was just as sweet.  
Quick summary of each game:
Illinois lost a heartbreaking opener as they rallied to tie the game with two outs in the ninth and take the lead in the top of the 10th.  However, Illinois succumbed four runs to the Green Wave as Tulane won it on a walk-off homer off Nick Blackburn. 
Mark Skonieczny's double in the 10th gave Illinois its first lead and freshman Caleb Kyle added to it with a rbi single.  Starter Cody Sedlock struck out ten Tulane batters while giving up just one earned run in just six earned run. 
There was just not enough offense on Saturday as Tulane shut out the Illini 3-0. 
Give some credit to Illinois pitching though.  Doug Hayes had a solid start allowing three runs and six hits in six innings.  Brendan Meissner and Joey Gerber both hurled scoreless innings. 
Illinois came back in Game 3 though. The offense rallied for five runs in the last two innings to come back from a two-run deficit.  Adam Walton, Michael Hurwitz and Jason Goldstein went a combined 6 for 12. 
JD Nielsen gets the win and Blackburn redeemed himself by pitching a perfect ninth for the ninth.  Starter Andrew Mamlic pitched a quality game allowing just one run in 5 2/3 innings while striking out six. 
Big hitters for the weekend were catcher Jason Goldstein (6 for 12) and DH Anthony Drago who was 4 for 10 with four doubles. 
Three reasons I feel positive about this weekend
Sure, Illinois started out 1-2 but from where I was watching the games on Gametracker on my phone while on the road this weekend, there are a couple reasons why I'm feeling good about this season.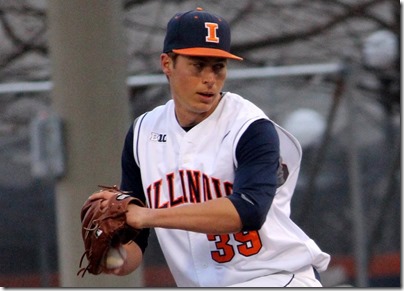 Solid starting performance by Andrew Mamlic on Sunday
Tulane is a top 20 team: Like Coach Hartleb said, Tulane is a tough team.  While Illinois' offense could have been stronger, they certainly held their own.  Overall, holding them to 11 runs in three games is a plus.
They seemed to play with heart:  Not only did the Illini come back to win game 3 but they rallied to take the lead in two of the three games.  That's a good sign. 
Good performances by our starters:  I'll be honest.  Cody Sedlock performed like I thought he would.  I was however, very heartened to see some very good outings by Doug Hayes and Andrew Mamlic who haven't had a lot of experience.  This test against a solid Tulane team will give them the confidence they both deserve.
Next up
Next weekend brings Florida Gulf Coast in Fort Myers.  Friday's game time is 5:30pm
Related posts