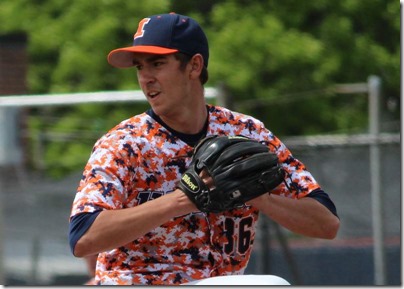 Doug Hayes is Saturday's probable starter against Tulane
It is almost opening day!  While Illinois will be battling the Tulane Green Wave in warm New Orleans and I unfortunately, won't be there, I am very excited for the start of the college baseball season. 
It's a new year in more ways than one.  A year ago, the Illini unknowingly began a historic season in which they won 50 games including 27 in a row and went as far as the Super Regional.  Since that Super Regional in June, the team has lost a few players to graduation and the draft.  The result?  A very young team playing for a very experienced head coach with more than a few wins under his belt. That coach, Dan Hartleb has a winning attitude.
Who's on First?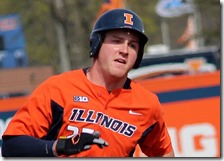 …and second?  and so on.  With the start of any new season, it usually takes a bit to get used to all the new guys.  It may take a bit longer this year.  Fortunately, the SID and interns are on the ball and are coming out with their annual team previews.  Yesterday, the Infielders preview was posted.    The Outfielders preview came out today. 
The quick and dirty on the outfield situation is that Pat McInerney (above) has a solid job and the other two spots are up for grabs.  As for the infield, it's looking like catcher Jason Goldstein and shortstop Adam Walton are sure things.  Michael Hurwitz is slated for second.  The team is leaning towards Matt James at first base and Trent Hammond's name is being mentioned for third base. 
Keep an eye out for the Pitchers' preview which will most likely be coming out on Fighting Illini website soon.
Speaking of pitching, here's who is on the mound for the Illini this weekend:
Friday  Cody Sedlock: 4-0, 4.02 ERA
Saturday  Doug Hayes: 0-0, 7.20 ERA
Sunday  Andrew Mamlic: 2-0, 4.91 ERA
Greer Field at Turchin Stadium

New Orleans, Louisiana

Fri. Feb. 19

6:30 pm CT

Sat. Feb. 20

4:00 pm CT

Sun. Feb. 21

1:00 pm CT

vs

2015 W-L: 35-25 The American 13-11
My take on Tulane: 
I rode the eight floors on the elevator with Coach Hartleb after Monday's press conference.  I sounded him out on Tulane who is currently #19 in the polls. He agreed that they were a tough team but thought this is was a great way to start the season especially for the new players. 
Tulane got as far as the Regionals last year and put together a solid 35-25 overall record.  Unlike Illinois, Tulane is a veteran team with just seven freshman.  With ten seniors and twelve juniors, the team should be in their prime assuming the talent is there. 
For an inside look, you can read the transcript of Tulane's Media Day held on February 11th. 
Random Ramblings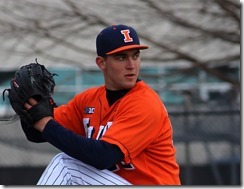 It shouldn't be a big surprise here but Nick Blackburn was named to the NCBWA's Stopper of the Year Watch list.  Blackburn was probably overshadowed by Tyler Jay's success in 2015 but he was critical in Illinois drive for 50 wins.  He had a 2.22 ERA in 24 plus innings.  Coach Hartleb has already indicated that he will rely on Blackburn in the coming season out of the pen. 
The big news regarding Illini sports of course, is the hiring of Josh Whitman as Athletic Director pending Board of Trustees approval.  In print, he looks to be the savior that Illini sports needs.  University of Illinois Timothy Killeen seems to agree:
"Josh has excelled at every level – student and professional athlete, attorney and athletic administrator. I enthusiastically share the confidence of the chancellor and search advisory committee that his success will continue here at Urbana."
Like with politics, I tend to steer clear from the administrative issues.  I just hope Whitman can add some integrity to the U of I athletics program. 
Go get the Wave, guys!
Related posts