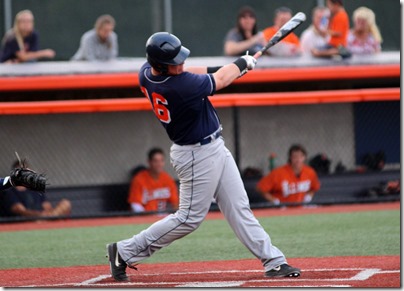 Luke Shilling raps a double in Game 1 of the O&B series last fall
I didn't know at last Saturday's Hot Stove Banquet  when I sat at the same table with Luke Shilling that he was going to be honored as the Preseason Big Ten Freshman of the Year as well as being ranked the #19 best freshman by Perfect Game.  I knew he was good but after this, he must be something special.  After all, the Texas Rangers did draft him out of high school (in the 20th round!).
The question remains: What talents exactly will he bring to the Illini table?  Shilling is an accomplished pitcher and hitter and could fulfill both needs for the team.  Last fall, I saw him hit a homerun during the Orange and Blue Series so I know there is power potential.  He also hit .400 in both his junior and senior years at Pontiac Notre Dame Prep.
Don't overlook his arm though.  His high school stats are amazing.  He went 7-1 with a microscopic 0.73 ERA and 102 strikeouts in his senior year.  That was good enough to make Perfect Game's All-American first team.  Shilling is a pretty soft-spoken fellow so we'll see how college baseball will treat him and how he treats it.
Regardless, congrats to Luke on the preseason honor.  But don't let it go to your head.  We got some games to play.
Media Day at the Irwin Facility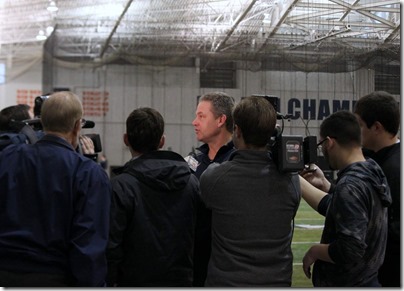 The media showed up for practice at the Irwin Practice Facility on Friday afternoon.  Coach Hartleb had his say with the press and photographs were taken of the guys working out.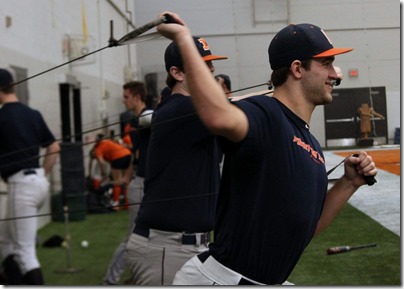 Nick Blackburn takes a turn stretching out
I took a few photos myself and you can find them at the Illinois Baseball Report photo gallery.
Finally, I'll just leave you with this Fighting Illini video interview of senior infielder Adam Walton.
"We should compete for a Big Ten championship year in and year out. It's a goal that this program has." – @AWalton2 https://t.co/GPv4NA5fKv

— Illini Baseball (@IlliniBaseball) January 29, 2016
I don't think it could be said any better, Adam.
Related posts