Matt James and Luke Shilling both homered for the Blue Team Monday
Illinois is taking the Orange and Blue World Series a whole lot more seriously this year.  Complete with a PA announcer, a working scoreboard, at bat music and actual umps, it seems that the Department of Intercollegiate Athletics is making an effort to get fans out to the park for the annual affair.  It's no longer just a quick practice games between the guys but something you want to tell your friends about. 
So if you didn't get out to Monday's game, you still have two more games this week.  There is one more thing I appreciated about today and it may seem small.  They're handing out updated rosters so you know who the new players are.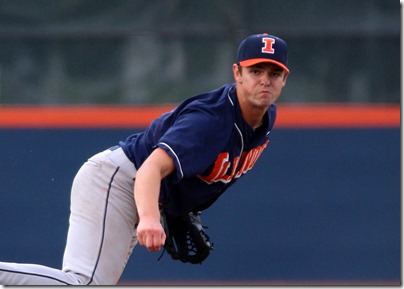 Freshman Brendan Meissner took a turn on the mound
As for the game, Matt James and freshman Luke Shilling got the Blue Team off to a good start by hitting back-to-back homers in the first inning.  The game was far from over though as the first few innings were full of offense.  The Blues had a 7-4 lead after five and while the Orange Team made a valiant effort scoring a run in the sixth and the seventh, they went down with James on the mound. 
There are plenty of my photos from today at the Illinois Baseball Report photo gallery. 
Game Two will be on Wednesday at 6:15 at Illinois Field.  It is free to the public. 
Related posts