Today is the first day of classes at the University of Illinois.  Students are getting into the swing of things here in Champaign-Urbana and that includes the returning Illinois baseball players as well as the incoming freshman.  Study hard, guys! 
While there will be some new players joining the team, there are a couple of transitional announcements.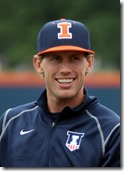 Kyle Hudson's status as Illinois' volunteer coach is still not officially declared.  His bio is still listed on the Coaches roster but he had been taken on by the Los Angeles Dodgers to play in their organization this summer.  The Dodgers were focusing on speed and there's no one better than Hud to increase the running game.  He finished out the season with the Dodgers' Single A Advanced team Rancho Cucamonga Quakes.  Good luck, Kyle!  If you find your way back here next year, we'd love to have you again!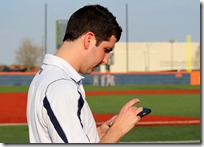 While touching base with the Illinois baseball office this August, I found out that Matt Wille who was the Assistant Sports Information Director, is no longer with the team and has found a position in the public sector.  Matt was such an asset for Illinois baseball and will be missed.  While an SID doesn't make headlines, what they do is so critical to the success of an athletic organization.  Matt was my contact person and I've enjoyed working with him throughout the years.  Good luck, Matt!
Practice will be commencing soon for the team.  It won't be long before the Orange and Blue World Series! 
Related posts