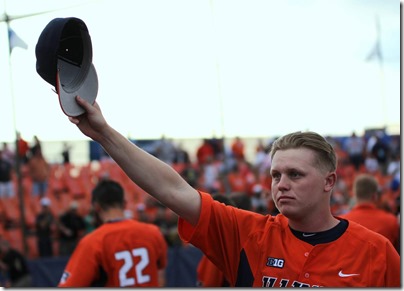 Kevin Duchene salutes the fans after today's loss
In today's Super Regional elimination game against Vanderbilt at Illinois Field, Illinois (50-10-1) could not take advantage of scoring opportunities and lost a heartbreaker to the Commodores 4-2.  With the loss, Illinois' magical record-breaking season is over.  
On the same day that he was eventually drafted #6 overall by the Minnesota Twins, Tyler Jay made his second start of the season.  He struck out six in six and a third innings but eventually got the loss.  Homeruns by Vanderbilt's Zander Wiel and Dansby Swanson who went #1 in the MLB Draft today, did the Illini in. 
| | | |
| --- | --- | --- |
| Game #61 / June 8, 2015 |   |   |
| | vs | |
| 4 |   | 2 |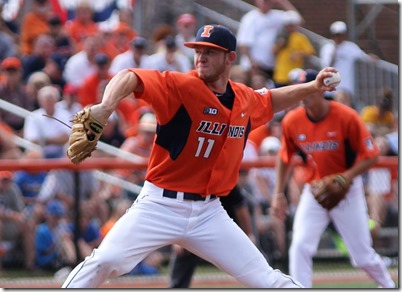 Six strikeouts but a tough loss for Tyler Jay
Despite the loss, Tyler Jay (5-2) pitched a solid game so I think it's fair to say that Coach Hartleb's gamble worked.  Jay spread out 10 hits and Vandy scored four runs but he also struck out six batters and walked none.  In comparison to Saturday's 13-run game, four runs was something our offense can work with.
When Jay ran out of gas, Illini reliever Nick Blackburn came in and really shut down the Commodore offense.  He got the Illini out of a jam in the seventh and pitched a scoreless eighth inning.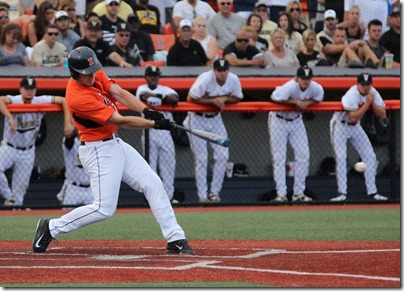 Pat McInerney drives in a run in the 3rd inning
Ryan Nagle continued his hitting spree with three hits for the day.  For the two games, he had five hits total. Pat McInerney had two hits including an rbi single in the 3rd which drove home Casey Fletcher. 
In essence, the game just got away from the Illini.  It was back and forth for a while with Illinois having a slight edge until the offense stopped up.  They had a great opportunity in the key eighth inning when they loaded up the bases with just one out.  Unfortunately, they couldn't capitalize. 
Random Ramblings
Photos of Game two of the Super Regional are here at the IBR photo gallery.  Illini fans, beware there are a few photos of Vandy players celebrating towards the end.  Fair warning. 
It shouldn't be any surprise that Tyler Jay was drafted today.  He was picked up #6 overall by the Minnesota Twins.  He already has a little practice pitching from their mound.  The Illini played at Target Field during the Big Ten Tournament this year. 
MLB pitcher and Vanderbilt alum David Price was at the game today.  He had a few words to say about the pick of Jay…
I'll see him very soon!! He can teach me his slider!! RT @AdamSparks: Tyler Jay said one of the thrills of his day was meeting @DAVIDprice14

— David Price (@DAVIDprice14) June 9, 2015
Yeah, good luck with that, David!  Congratulations to Tyler Jay!!
It's getting late but I would like to thank the 2015 Illinois Baseball players, coaches, staff and parents for a fantastic season I will never, ever forget. 
Thanks, Illini!!
Related posts