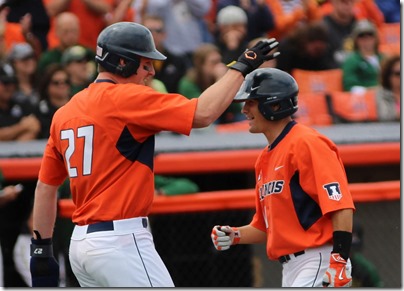 Success breeds success, they say.  On the heels of their 3-0 Champaign Regional Championship, Illinois baseball can claim three All-Tournament honorees. 
ICYMI -> Congrats to #Illini Will Krug, @DrDra35 & @Dkerian12 (Most Outstanding Player) on #ChampaignRegional honors! pic.twitter.com/D55uaoRF9t

— #ILLINI #RoadToOmaha (@IlliniBaseball) June 3, 2015
Drasen Johnson's complete game shutout was a no-brainer.  I knew David Kerian and Will Krug both had a great weekend but did you realize the impact of the 7-8-9 hitters of the Illini?  That also includes #9 hitter Ryne Roper. 
Check the stats.  For the weekend, Krug went 6 for 10, Kerian went 5 for 8 with 2 HR and Roper went 4 for 11.  Together they drove home 12 runs in the three games at the Champaign Regional.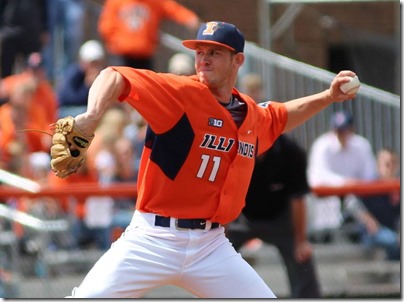 As long as we're on the topic of awards, dominant Illini reliever Tyler Jay is one step closer to the NCWBA Stopper of the Year Award.  The list is down to just five now.  The Big Ten Player of the Year, Jay is second in the country in ERA (0.60) and leads in WHIP (0.61).  Ten days from now, the winner will be announced. 
Everything's super now!
On to the Super Regional now.  The once overwhelming 64-team NCAA bracket is suddenly down to just sixteen teams now.  The chaff has been separated from the wheat and we're on to some serious baseball now. 
Here is the current NCAA Division I bracket.
This weekend, sixteen teams will face off in eight separate Super Regionals in a best of three series and those winners will earn the right to move on to the College World Series in Omaha which starts on June 13th. 
As for Illinois, they will take on the Vanderbilt Commodores here at Illinois Field.  Vandy is the reigning national champion having taken it all in 2014.  They have a few of their players back for the 2015 campaign and are a team to be reckoned with.  The good news (aside from boasting about our own greatness) is that Illinois is playing on their home turf in front of mostly friendly crowds. 
If you were thinking of attending this weekend's Super Regional, the word right now is that all games are sold out.  As always, keep an eye on @IllinoisBaseball in case more tickets become available at a later date.
It's worth noting that one other Big Ten team made it to the Super Regionals.  The Terps will be taking on the Virginia Cavaliers in Charlottesville.  Both were #3 seeds in their respective Regionals so it will be interesting to see how that shakes out. 
Also, former Illini coach Eric Snider and his tough Louisville Cardinals are hosting Cal State-Fullerton.  Both were top seeds.  Will Coach Snider get to meet up with his former team?  Stay tuned!!
  3 days till #SuperRegional
Related posts