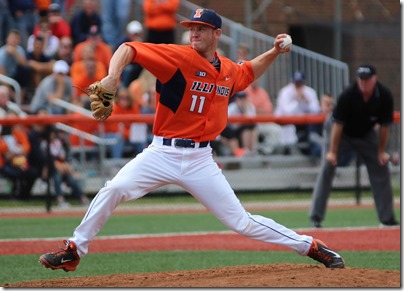 Tyler Jay gets his chance at a start vs. Vandy
With their backs against the wall, Illinois baseball will attempt to to tie their series with Vanderbilt in the NCAA Super Regional.  They were stunned in Saturday night's opener getting walloped 13-0 by the Commodores. 
But Coach Hartleb has an aces up his sleeve.  Tonight's game at 5pm (note the time due to the weather) will feature Illinois reliever Tyler Jay's second start of the year.  Jay has 28 relief appearances and one start with 0.60 ERA.  His one start was back in February. 
With a win, Illinois will face Vanderbilt again on Monday.  With a loss, their 2015 season is over.
| | | |
| --- | --- | --- |
| Game #61 / June 7, 2015 |   |   |
| | vs | |
| 13 |   | 0 |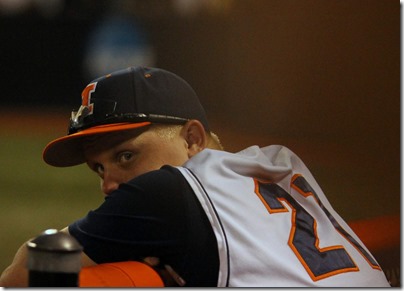 A rare off night for Duchene in his last Illinois Field start
A 13-0 game doesn't leave a lot of room for highlights even for a homer fan like myself.  Saturday's game just hurt to watch.  Kevin Duchene who has been on his game all year, just didn't have it against Vanderbilt.  Now granted, he does have a tendency to give up a run in the first inning or so then shut down the offense.  That wasn't the case on Saturday.  He gave up three runs in the first complete with a pitcher's mound visit by Coach Drew Dickinson.  After giving up seven runs and four earned, Duchene was taken out in the fifth.  By far his earliest exit in this great season of his.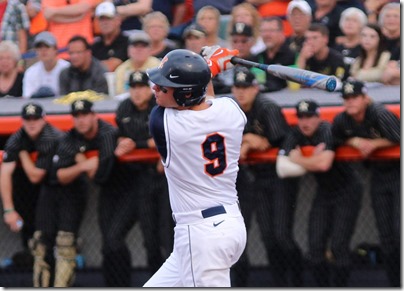 Two hits for Ryan Nagle on Saturday
At the same time, the Illini offense was being shut down by premiere starter Carson Fulmer of Vanderbilt.  He kept the good guys down to just four hits, all singles.    Ryan Nagle had two of those hits.  Fulmer with his twitchy gestures on the mound and nasty delivery, walked five, struck out five but most importantly, won the game for Vanderbilt and improved his record to 13-2.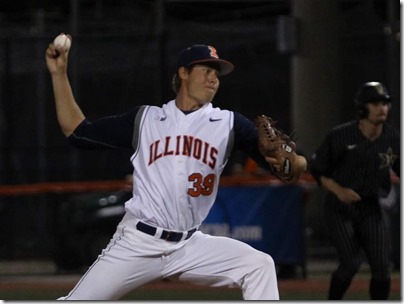 Two pitching efforts worth mentioning:  Cody Sedlock managed to pitch the only 1-2-3 inning of the night in the 6th.  Andrew Mamlic (above) also pitched a scoreless inning.   After giving up a leadoff hit in the eighth inning, he retired the Commodores.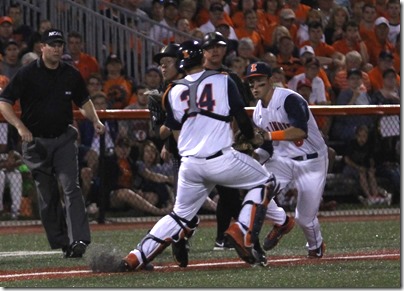 Insult to injury: Saturday's game wasn't without a little controversy.  With Vandy up 5-0,  their runner scored due to obstruction according to the umpire.  This occurred during a pickle between catcher Jason Goldstein and Adam Walton.  The tag was made but the man in blue called the runner safe due to obstruction.  This got Coach Hartleb out of the dugout and the Illini fans in an uproar. 
Random Ramblings
More photos are here at the IBR photo gallery.
As a friend of mine said, any way you look at Saturday's 13-0 game, we're still just down one game to none.  Now that Coach Hartleb has pulled out his ace in his sleeve in Tyler Jay, it could be anyone's game.  Assuming we win tonight, we have a workhorse starter in Drasen Johnson for Monday.  That leaves John Kravetz or Nick Blackburn available for relief work today should we need it. 
I honestly have to hand it to the Vandy fans.  They are hard core supporters of their team.  A lot of them have come a long way to support their players.  They have creative chants and cheers something I always like to see no matter the team or sport. 
They also have to listen to this guy at every game.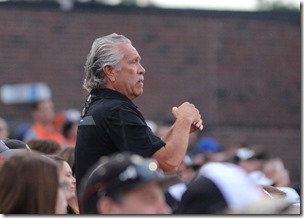 Known as the "whistle guy", the rumor is that he is famous for his 3 high-pitched whistles… which he does all game.  I admire his dedication but if you sit next to him, I recommend earplugs. 
Finally, I'll leave you with this.
No guy was more excited to see the matchup v Vanderbilt more than @TyJay_11 who played on #TeamUSA with Dansby Swanson and Carson Fulmer

— Mike Waddell (@IlliniWad) June 7, 2015
This gives Sunday's game a whole different perspective. 
Let's go get 'em, Illini!!
Related posts