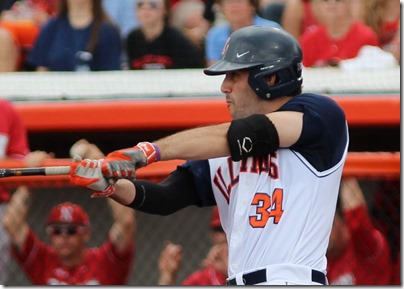 Two hits and an rbi for Jason Goldstein in Round two at the Big Ten Tourney
It finally happened.  It had been almost two months since Illinois had lost game but on Thursday night at the Big Ten Tournament, costly errors contributed to a 2-1 loss to the Maryland Terrapins.  The Terrapins got a gutsy start from their freshman pitcher, Brian Shaffer and Illinois' starter Drasen Johnson put in a good performance himself.
After the loss, I was heartened to see this from Willie Argo:
@IlliniBaseball head up boys! 27 in a row ain't a bad run! Start a new one tomorrow!

— Willie Argo (@WillieArgo42) May 22, 2015
Keep in mind this is the same Willie Argo who was the very competitive centerfielder for the Illini.  Keeping things in perspective. 
Quite simply, errors hurt the Illini.  Three singles by Ryan Nagle, Reid Roper and Jason Goldstein gave them a quick 1-0 lead in the first inning.  Illinois gave it right back and more when two errors in the top of the second contributed to a two-run Terp inning.  Overall, the Illini made a season-high three errors. 
Both starters pitchers were on their game.  Maryland freshman pitcher Brian Shaffer struck out seven and gave up the one run.  Drasen Johnson also struck out seven while his two runs were unearned. 
J.D Nielsen made an appearance, relieving Johnson.  He gave up a hit and a walk but struck out two Terps and was not scored on. 
Key moment of the game: With the bases loaded and just one out, Cody Sedlock came on to pitch.  With just one pitch, he induced a ground ball double play to Ryne Roper.  That gave Illinois a little momentum and had Illinois won, we'd be seeing that play on the highlight reel a lot more.
Next up
The Illini are already thinking about their next opponent, the Michigan State Spartans.  They will take them on Friday night at 7:30pm.  Fighting Illini has the game preview up.  John Kravetz (4-0, 3.76 ERA) is on the hill.  
While Maryland was a relatively unknown quantity (Illinois hadn't played them since 1970), we certainly are familiar with the Spartans.  In fact, before last night, Michigan State was the last team to beat Illinois on March 29th.  Don't think that Illinois can't defeat them though.  They did win the overall series 2-1. 
Random Ramblings
Don't look now but Tyler Jay is one of 21 semi-finalists in the USA Baseball Golden Spikes award.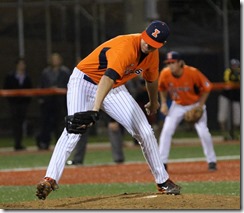 J.D. Nielsen (left) apparently has had experience with winning streaks before.  His father Dan tells me that J.D.'s high school team, Martensdale-St. Mary's (IA), holds the national record for consecutive wins.  His team had an incredible winning streak of 87 games.   During that time, they won three state titles.  I'm sure that experience is helping J.D at this time. 
Dave Loane, if you're reading this, I want you to know, I tried.  I watched BTN2go but tried listening to Dave on AM1400 while muting BTN's volume.  The Big Ten Network's commentators are just fine but I really do prefer listening to Mr. Loane's voice.  Unfortunately, BTN was a delay and it didn't quite synchronize.  I gave it a shot. 
Here's a quick look at who's in and who's not at the Big Ten Tournament.  After yesterday's action:
Game 5: No. 6 Indiana 5, No. 7 Ohio State 3
Game 6: No. 5 Michigan State 9, No. 8 Nebraska 7
Game 7: No. 3 Michigan 8, No. 2 Iowa 5
Game 8: No. 4 Maryland 2, No. 1 Illinois 1
As of this writing, # 7 Ohio State and #8 Nebraska are out of the tournament.  #4 Maryland and #3 Michigan have yet to lose a game.  #1 Illinois, #5 Michigan State, #6 Indiana and #2 Iowa are still alive. 
Here is the updated tournament bracket.  Check out more info at the Big Ten Baseball Tournament Central. 
Let's go, Illini!!
Related posts