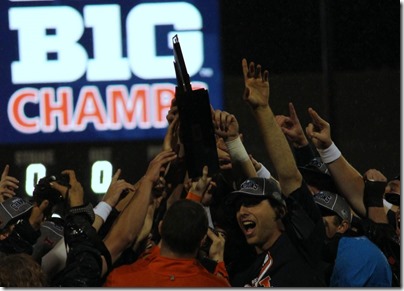 In a dismally rainy evening, #2 Illinois (44-6-1, 20-1 Big Ten) gave 1000+ Illini fans reason to stay at the ballpark.  With a 6-3 win over the Nebraska Cornhuskers (34-20, 9-13 Big Ten), they clinched the Big Ten Championship for the first time since 2011 and extended their winning streak to 25 games.  Kevin Duchene and Tyler Jay combined for a solid pitching effort while Pat McInerney contributed a two-run homerun to the cause. 
Illinois had some unlikely help in clinching the championship.  Rutgers who was swept by Illinois last weekend and lost 28-13 on Sunday, defeated second place Iowa 5-3 earlier in the day.  That was a valiant effort by the Scarlet Knights as the Hawkeyes are ranked and Rutgers haven't beaten a Big Ten team in 14 games till today. 
| | | |
| --- | --- | --- |
| Game #51 / May 14, 2015 | | |
| | vs | |
| 6 | | 3 |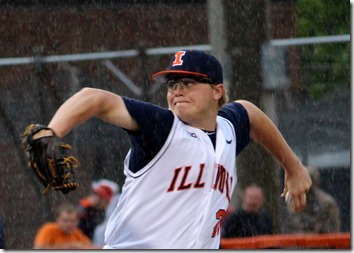 Kevin Duchene pitched through the rain
As for the game itself, Kevin Duchene started out like his typical self blanking the Huskers in the first six innings.  He got into a spot of trouble in the seventh when he gave up a three-run dinger but that was all the offense that Nebraska would see.  After Andrew Mamlic came in for a few batters in the eighth, Coach Hartleb thought it was time to see Tyler Jay.  I don't think I've seen Tyler as dominant as I did tonight. For two innings, he fooled batters and got the save without giving up a hit. 
Offensively, it didn't take long for the Illini to get on board.  As soon as I got to park in the first inning, Adam Walton was crossing the plate on a Reid Roper hit.  Ryan Nagle scored soon after on a sac fly by Jason Goldstein.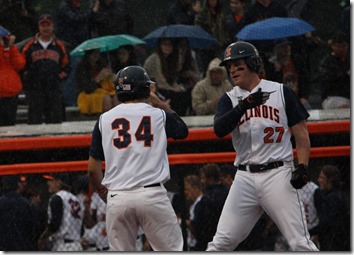 In the fourth, Pat McInerney hit his fifth homer of the year to increase the Illini lead to 4-0.  And just in case, Will Krug came through with an rbi hit scoring Casey Fletcher and David Kerian plated on a fielder's choice. 
Duchene's win gives him a 10-1 record and Jay now has 11 saves on the year.
Photos from tonight are here.
Next up
Illinois continues their series with Nebraska tomorrow night at 6pm.  Drasen Johnson will be on the mound for the Illini. 
Nice work, Illini!!
Related posts