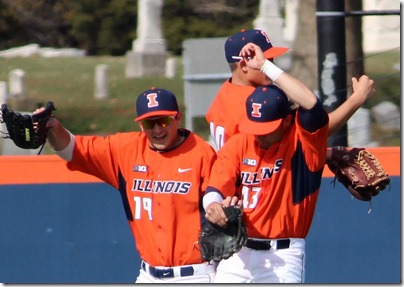 Celebrating a sweep!
Illinois baseball completed their weekend sweep of Northwestern on Sunday in almost ruthless fashion.  They defeated the Wildcats by a football-like score of 17-2.  The game was really never in question with the Illini scoring three runs in the top of the first inning and by the end of third inning, the score was 8-2.  With John Kravetz pitching, there was nothing to do but to play the game out. 
Kravetz allowed eight hits in six innings but the Wildcats could not capitalize on their opportunities.  Kravetz allowed only two runs and only one earned.  His win today was the third of the year. 
For the weekend, Illinois outscored the Wildcats by a 31-7 margin.  They  now sit on a 24-6-1 overall record and a 5-1 Big Ten mark. 
| | | |
| --- | --- | --- |
| Game #31 / April 5, 2015 | | |
| | vs | |
| 17 | | 2 |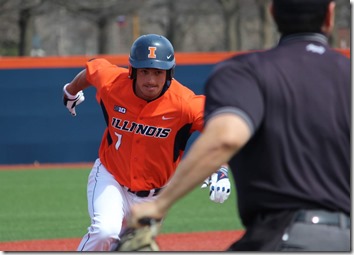 Reid Roper (5 for 6 with a triple and a homer) charges into third
Obviously, there was a lot of offense today and a lot of player put in some good performances.  One player does stand out and that would be Reid Roper.  He went an amazing 5 for 6 with a triple and a homerun.  He drove in three runs and scored four.  It was his 3-run homerun in the first inning that go everything started for the Illini.
Catcher Jason Goldstein hit his third homer of the year in the fifth.  For the game, he went 3 for 4 with 4 rbis.  Adam Walton (3 for 4) went deep in the sixth inning.  It was his second of the year. 
When Kravetz was done after six innings, Rob McDonnell and Anthony Milazzo both pitched consecutive scoreless innings.  Tyler Jay was a surprise choice for the ninth inning.  I suppose Coach Hartleb wanted to get some work in for him… or maybe he wanted to protect that precious 15 run lead (kidding).  Jay got the job done without problem. 
Random Ramblings
Beautiful day at the ballpark today.  Photos are up in the IBR photo gallery.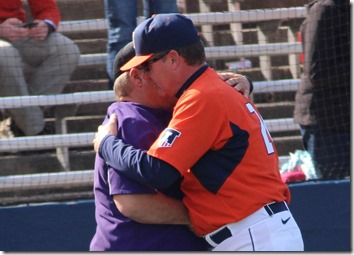 Coach Hartleb gets heartfelt congrats from Wildcat coach Paul Stevens
Speaking of Coach Dan Hartleb, let me congratulate him on winning his 300th career game.  He's done a lot for the Illinois baseball program both on the field and internally.  His influence can really be seen in the respect that players have for him. 
Congratulations, Coach!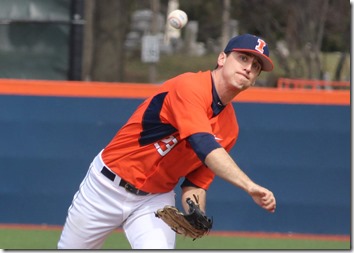 Kravetz passes Coach Dickinson in innings pitched on the all-time list
John Kravetz passed a milestone of his own today.  After four innings, he passed current coach and former Illini hurler Drew Dickinson on the all-time Illini career records list for innings pitched.  Kravetz is now alone in fourth place with 307 innings. 
Kravetz' pitching counterpart on the mound for Northwestern was Brandon Magallones.  The two of them were rivals on the field from their high school days and have since kept in touch.  Unfortunately for Magallones, he didn't last last long.  Illinois knocked him out of the game in the third inning. 
Next up
There are two midweek games this week.  Illinois will travel to Eastern Illinois on Tueday if the weather hold.  On Wednesday, the Billikens of St. Louis will come to Illinois Field.  Game time is 6pm. 
Eastern Illinois, once a baseball powerhouse, amazingly lost their first 23 games this season.  They finally won their first game yesterday against Tennessee Tech.  These kind of games make me nervous and I'm sure Coach Hartleb is pushing the team to take this game especially serious.
Way to go, Illini!
Related posts