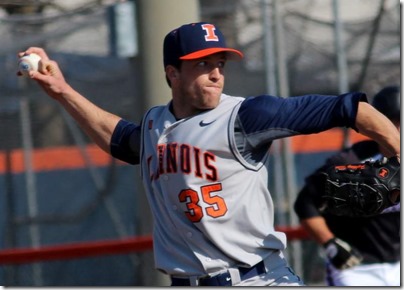 Drasen Johnson wins #4 of the year
There was no game winning homerun today. Nor was their any other late inning heroics.  There was no need for any. #15 Illinois (23-6-1) got off to a nice 6-1 lead by the third inning and never looked back against Northwestern on Saturday.  Behind the strong pitching of starting pitcher Drasen Johnson and a team offensive effort , the Illini defeated the Wildcats 11-4 ensuring a series win. 
With one game left against the Wildcats, Illinois is now 23-6-1 and 4-1 in Big Ten play. 
| | | |
| --- | --- | --- |
| Game #30 / April 4, 2015 | | |
| | vs | |
| 11 | | 4 |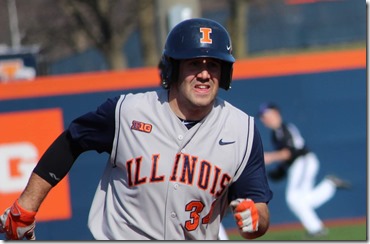 Two doubles and three runs scored for Jason Goldstein
Johnson went 7 1/3 strong innings striking out seven batters.  While he gave up 11 hits, he gave up only one walk and minimized the damage to just three runs.  Reliever J.D. Nielsen came in the eighth and efficiently got the last two batters out.  Andrew Mamlic got through the error-plagued ninth giving up one unearned run. 
But the offense!  By the time I got to the ballpark and got settled in, the Illini bats were already hot.  Jason Goldstein doubled home Pat McInerney in the second and then scored on a David Kerian single.  In the third, Illinois scored four more with the help of three doubles by Adam Walton, Reid Roper and and another by Goldstein.  Kerian added another rbi single as well. 
Ryan Nagle scored with the help of an Northwestern error in the sixth inning and in the eighth, he scored again when Reid Roper drove him home with an rbi base hit. 
For the game, Reid Roper was 2 for 5 with a double and 3 rbis.  Jason Goldstein went 2 for 3 with 2 doubles and scored three times.  Ryan Nagle had three hits and scored twice.  David Kerian and Ryne Roper both had two hits and two rbis. 
Random Ramblings
Photos are up in the IBR photo gallery.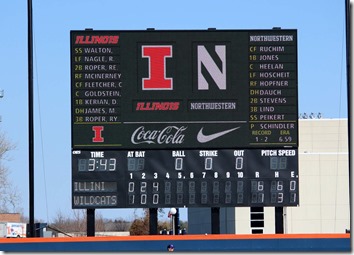 So far, I'm really enjoying the new scoreboard a lot.  It bears the lineups of both teams, selected stats of the batter up, and a quick bio when the Illini batter comes to the plate.  Very nice.  The only downside I see is when Illinois plays late afternoon/early evening games when it is sunny (like Friday), there may be a glare making it a little unreadable.  But I'm nitpicking. 
As far as making the Illini baseball experience enjoyable, those in charge have really made an extra effort this year it seems.  With the new music, sound effects, mid-inning activities and promotions, it does seem like a different and even more fun environment which I think will draw more fans. 
Next up
Illinois will go for a sweep on Sunday against Northwestern at Illinois Field.  Game time is 1pm and John Kravetz will bring his broom to the mound. 
Go Illini!
Related posts