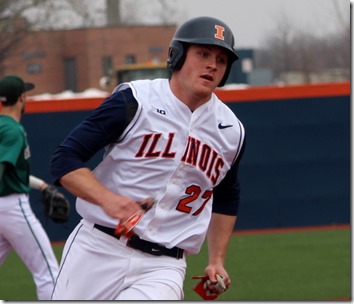 Pat McInerney is tied for the Illini lead in rbis with 19
We are one day away from Illinois baseball's Big Ten home opener…
…sort of. 
#15 Illinois (21-6-1) will be playing Northwestern (8-19) this weekend.  While this isn't technically a home series for Illinois, this will be the first Big Ten series played here in Champaign this year.  Because of renovations at NU's Rocky Miller Park, this weekend's Illinois-Northwestern series will be played at Illinois Field.  And yes, Illinois will bat first though I'm not which dugout they will claim. 
The Fighting Illini preview is up along with the pitching probables.  Nothing new here.  In order, it will be Kevin Duchene (4-1, 0.82 ERA), Drasen Johnson (3-2, 2.36), and John Kravetz (2-0, 3.22).
Illinois Field

Champaign, Illinois

Fri. April 3

6:00 pm CT

Sat. April 4

3:00 pm CT

Sun. April 5

1:00 pm CT

vs

W-L: 8-19 Big Ten 2-1
The Northwestern Wildcats are 8-19 for the 2015 season.  However, they have gotten off to a 2-1 start to the Big Ten season against the Minnesota Golden Gophers.  That includes a 19-7 drubbing on Sunday.  So the Northwestern bats can bring it on occasion if the mood strikes them.  A bright spot on the NU roster is Kyle Ruchim who is batting .351 with 5 dingers. 
However, Illinois has history on their side with a dominant 166-87 series record against the Northwestern Wildcats.  Last year, the Illini swept NU 3-0 and won its last five against the Wildcats. Let's keep in going, guys!
Random Ramblings
Driving in runs has been a team effort for the Illini this year.  Pat McInerney, David Kerian, and Reid Roper are all tied for first with 19 ribbies.  Casey Fletcher is just one behind with 18. 
If you're interested in why exactly this weekend's games were moved to Champaign, here is more information and photos on the renovation of Northwestern's Rocky Miller Park.  From the looks of it, they are going through a similar renovation that Illinois Field did a few years ago with a state of the art clubhouse and new field turf.  But hey, they're getting new chair backs! 
Speaking of renovations, Illinois Field will look a little different this weekend.  Not only will the new video scoreboard be up but I now hear that the old one has been taken down.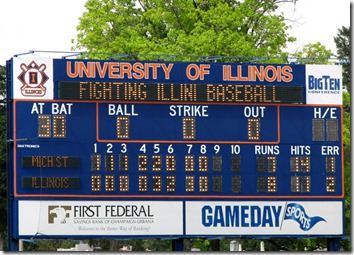 In honor of the old scoreboard, here's my favorite score ever.  This one goes back to May 2007.   Illinois came back from 7 runs down to defeat the Spartans and advance to the Big Ten Tournament. 
Now that old "Boardy" has been taken down, I hope there isn't a glitch with the new scoreboard.  Otherwise, we might have to send Drew Dickinson out with a chalkboard and chalk.
Go Illini!! 
Related posts